Taco Dip
My mother has been making taco dip for parties and events for as long as I can remember. It's always a hit. The main reason it's always so popular is that it has ground beef in it! Most taco dips I've eaten do not include the beef and I think it takes it to another delicious level. I have adapted the recipe to my preference over the years. My mother does a layer of salsa in hers but I prefer a layer of guacamole. Either one or both can be used!

This dip does not require a lot of time to prepare and you can make it ahead of time which is helpful. It's best if consumed by about 12 hours after preparation so this is best made the morning of your event or the evening before if you will be having an afternoon event.
As for spreading the layers nicely (I use a glass dish so I like it to look neat and tidy), I use an angled spatula. It allows you to get into all those edges and corners beautifully. This is a kitchen tool I think everyone should have as it's useful in many situations including icing cakes or brownies or spreading a nice layer of mashed potatoes atop your Shepherd's Pie.

I guarantee that people will be begging you for the recipe for this simple amazing appetizer. It will disappear very quickly! You may only need one bag of tortilla chips as people will be loading as much dip as humanly possible onto each chip. I suggest scoops-style chips as they are sturdy and hold lots of yummy dip!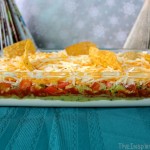 Taco Dip
A quick and simple taco dip that can be prepared ahead of time.
Ingredients
1

lb

ground beef

Taco seasoning

1

cup

sour cream

1

cup

cream cheese

2

cups

guacamole

1

jar taco sauce

2

cups

shredded lettuce

2

cups

diced tomatoes

2

cups

shredded cheese
Instructions
Allow cream cheese, sour cream and guacamole to come to room temperature.

Prepare the beef per directions on taco seasoning. Set aside to cool.

Mix together sour cream & cream cheese. Layer on bottom of 13" x 9" dish.

Layer remaining ingredients in this order: guacamole, taco sauce, beef, lettuce, tomatoes, cheese.

If making ahead, cover dish with plastic wrap and store in fridge.

Serve at room temperature with your favourite tortilla chips.
Inspired? Check out more of our easy appetizers:

Andrea can always be found with a new craft in front of her, a form of technology on her right and a coffee on her left. This is how she survives suburbia with her two crazy toddlers in tow.