During the holidays, it's the time where I can enjoy the soft glow of my Christmas tree and sit with a glass of wine and relax. One of my favourite parts of Alberta Christmas is that we are not in a rush to go anywhere or visit anyone. We simply get to enjoy our families' company and have a Skype call or two with the relatives. These are my favourite times to curl up with my husband and have the conversations that are not interrupted by many questions.
Fast becoming one of my favourite wines is Clos du Bois. The Chardonnay – a beautiful straw yellow in colour – showcases, intense aromas of apple blossom, ripe pear and sweet lemon drop, complemented by toasty oak, spice and cream and a long, fresh finish.

The Clos du Bois winery was founded on the principle of marrying the best of California's fruit-forward wines with the undeniable elegance of those produced in France. Attention to detail and Old World winemaking techniques bring out the best of their California grapes, and has resulted in decades of approachable wines whose lush, fruit flavours can be enjoyed from coast-to-coast.
The grapes in Clos du Bois' 2013 North Coast Chardonnay come from the Russian River Valley, which closely resembles the Burgundy region in France. To produce the wine, fruit is harvested in cool temperatures and gently pressed to preserve its pure flavours. Next, the wine is partially barrel fermented in a combination of French and American oak for six months to encourage maximum flavour development. It is time well spent.
Here's a simple 4 ingredient Walnut Cheese Ball that pairs well with Clos du Bois, and whatever little nibbles you want to throw with it. At our house anything goes from celery and cucumber to rice crackers or wheat crackers.
Watch This Simple 4 Ingredient Recipe Unfold: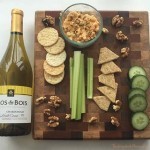 Walnut Cheese Ball
A super easy make-ahead cheese ball appetizer that pair well with Clos du Bois.
Ingredients
1

container of MacLaren's Imperial Sharp Cold Pack Cheddar Cheese Product

250g

1

container of plain cream cheese

1

cloves

of garlic

minced

1/2

cup

of walnuts
Instructions
Mix Imperial Cheese, Plain Cream Cheese and Garlic Cloves with Mixer.

Press into container and add walnuts.

Enjoy with your favourite crackers, rice crackers, or on celery.
Recipe Notes
Cover and let chill in the fridge overnight for best results or at least an hour before serving.
Don't add additional garlic, as it "grows" the longer it's chilled.
More Appetizers To Try
Holiday Turkey Meatballs

This blog post was sponsored by Clos du Bois but the opinions are completely my own based on my experience.

a passionate recreation coordinator by day, crazy farm mama of two by night. i live outdoors: growing my own food, camping and hiking with my border collie with two active kids in tow. when I'm not writing, I'm experimenting with recipes, and crafts – or anything else that might keep the monkeys entertained.