Dipped Wafers for Valentine's Day
Looking for a simple treat to make for Valentine's Day? Look no further than these dipped wafers. Not only do these cookies look fabulous, they also taste fabulous. Even better than that, they require minimal ingredients, time and money. Plus you can make these dipped wafers with the kids. You really have no excuse not to make these for Valentine's Day!
These only require a package of pink or white wafers, some Candy Melts or chocolate melts and a variety of festive sprinkles. These wafers can be altered for just about any occasion! Simply change up your wafer, candy melt and sprinkle colours to suit the festivities be it a birthday party, a baby shower or a Halloween party.
My husband was chomping at the bit to eat these dipped wafers. I made him wait a day because I needed to take photos. I can't wait to make these for any event I'm invited to because they are so simple to make and can be made last-minute. Plus they always look fantastic – and taste fantastic! Tuck this one into the recipe box (or add to Pinterest!) – I guarantee you'll make these again and again.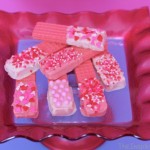 Valentine's Day Dipped Wafers
A quick and simple treat to make with the kids for Valentine's Day, these cookies are guaranteed to be a hit and also look fabulous!
Ingredients
Wafer Cookies in Strawberry or Vanilla

as many as you'd like to make

Candy Melts or chocolate melts in pink

red and/or white

Sprinkles and nonpareils in pinks

reds and whites
Instructions
Follow instructions on package for melting Candy Melts using either microwave or double-boiler. There is no exact amount as it is based on how many cookies you plan to dip. About 1/4 bag of candy melts should dip about a dozen wafers.

Meanwhile, line a cookie sheet (or 2 or 3) with parchment or wax paper.

Once melted, dip half of a wafer into melts, lay on cookie sheet and decorate with sprinkles of your choice! Continue doing this with each wafer.

Place cookie sheets in refrigerator for at least 30 minutes to set candy melts. Once they are set they can be stored in an airtight container. They do not need to be refrigerated once set.

Andrea can always be found with a new craft in front of her, a form of technology on her right and a coffee on her left. This is how she survives suburbia with her two crazy toddlers in tow.