Chocolate Easter Bunny Cake: Lactose Free
One of the first cakes I ever made was a chocolate Easter Bunny Cake. It didn't look anything like this guy because I was about 6 years old. But I was so proud of that cake. I really wanted to make an easy Easter bunny cake that the kids would love and would maybe become an Easter tradition.
I also wanted to be able to enjoy it with them, so I have created a variation that is lactose-free.
Lactose-Free Cake Mix
You might not know that many cake mixes are now dairy free. This Easter Bunny is made from a Duncan Hines Fudge cake mix but if you have a lactose intolerant person at your table, I definitely encourage you to read the boxes. I love a cake from scratch as much as the next person but sometimes you need to whip up a cake in a flash, right? Anyway, I prepared the cake as per the instructions on the box.
Easy Buttercream Frosting
There are many lactose-free options for grocery store frosting too, but this is one area where I ALWAYS opt for scratch. The recipe is so simple and it's from the people who KNOW cakes. If you want to whip up a batch of buttercream icing that is perfect every time, simply go for the Wilton Buttercream Frosting Recipe.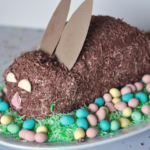 Easy Buttercream Frosting
Ingredients
1/2

cup

shortening

1/2

cup

butter

I use Natural lactose-free

1

tsp

vanilla

4

cups

icing sugar

2

tbsp

milk

as needed, again I use Natural lactose-free
Instructions
Beat the butter and shortening in the bowl of your mixer until blended and creamy.


Gradually add in the icing sugar, one cup at a time, beating well on medium speed and scraping down the bowl.

Once all the sugar is added, beat until light and fluffy.

For spreadable consistency, add milk (or water or corn syrup) a little at a time until the desired spreadability is reached.
Chocolate Coconut
Mix 2 tbsp cocoa power with 3 cups shredded coconut.

Create The Body
To make the bunny, you need one 8 or 9 inch round cake. You cut the round in half and add a generous layer of icing on one side, then press the two halves together. If your cake is soft, you may want to cut out a little piece of cardboard the same size at the flat cut edge of your "half moon" to make it easier to position your bunny on the plate. When you stand them up on the flat edge, you get the rounded back of your rabbit.
Shaping The Face
You need to cut a notch out of the cake so you have a spot to place the ears and define the face. It's like a little wedge. I would show you what that wedge looks like, but I basically shaved and carved until I got the shape I wanted. Full confession: I used some of that shaved cake to add a little extra height on the bunny's head before I iced it.
Decorating Your Easter Bunny Cake
Once you've got your cake standing up and your notch cut, cover the cake in a generous layer of icing. It doesn't have to be perfect. In fact, little lumps, bumps and rounder corners help give the bunny more shape.
My kids are pretty picky. Their favourite cake is chocolate with vanilla icing but I really wanted to make a cute brown bunny. So I used cocoa powder (another easy lactose-free trick) to tint the coconut rather than mixing chocolate into the coconut. You can see some of the white icing through the covering but I enjoy that heathered look. If you want a really chocolate looking bunny, consider using chocolate frosting on the cake.
To coat the cake in coconut, you will likely have to gently press it onto the bunny all over its body. It fills up cracks (which is usually a good thing) but it can fill up your wedge or gather around the bottom, so just be a little careful not to over-cover it.

For the "grass" you will need need 2 cups of shredded coconut and 5 drops of green food colouring. Blend together and spread over your platter.

The last steps are easy. Just add the face, ears and give Mr. (or Ms.) Easter Bunny Cake some eggs! I used Candy Melts for the face but Smarties also work well. The ears can be cut from a piece of cardstock in the colour of your choosing.

Now you can sit back and enjoy your adorable Easter Bunny Cake … the only question is, is he (or she) too cute to serve up for dessert?

Looking for more great crafts, activities, and foods to celebrate Easter? Check these out.
More things to make? How about some more Easter Desserts.

Melanie from mommydo.com writes about parenting, food, neat stuff and the unexpected beauty in life, all while juggling work, family life and spreading awareness and raising funds for Williams Syndrome.