To Go Salad Jars
Summer is a busy time for everyone. Meal times tend to sneak up out of nowhere. I find myself looking at the clock wondering where the last few hours just went. And then wondering what in the world we are going to eat. By this point the kids are hungry (read: whiny) and I quickly scan the fridge looking for the answer.
Since our house does not have A/C, when it is hot, we try to avoid turning on the oven and stove. We BBQ a lot since it's quick and easy. Plus the kids can play outside while we cook – win win! Hot dogs, hamburgers, and sausages are our go-to foods on the grill, and then we need a side to go with them. The answer: salad jars!
Making salad jars is so simple, and it's the perfect way to portion out a salad. Perfect for dishing up with dinner, packing in your lunch for work, or as a healthy late night snack. Using glass jars is not only environmentally friendly, it is a little more "grown up" than plastic containers. Being able to grab a jar of salad and head out the door to work, baseball practice, or to watch your kid's soccer game is great.
We like to use the Bernardin 750 mL Wide Mouth jars – it's the right size for us. You may prefer to use smaller or larger jars depending on your family and/or how much salad you want to eat at a given time. The two recipes below make a enough salad for 4 of the 750 mL jars. You can easily adapt these recipes to make more or less depending on your needs.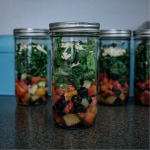 Greek Salad
Ingredients
Dressing
1/4

cup

olive oil

1/4

cup

red wine vinegar

1

tbsp

lemon juice

2

cloves

garlic

minced

1/2

tbsp

dried oregano leaves

1/2

tsp

salt

1/4

tsp

black pepper
Salad
2

tomatoes

chopped

1/2

english cucumber

chopped

1

bell pepper

chopped

1/2

cup

feta cheese

crumbled

3/4

cup

black olives

romaine lettuce
Instructions
Make the dressing. Let stand for a half hour.

Chop up tomatoes, cucumber, peppers in large pieces

Pour dressing over chopped vegetables & olives, mix together.

Divide mixture evenly between 4 750mL wide mouth mason jars

Fill remainder of jar with chopped romaine lettuce, and sprinkle feta cheese on top

When ready to eat, simple shake up jar to mix, then enjoy!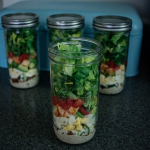 Cobb Salad with Bacon Ranch Dressing
Ingredients
Bacon Ranch Dressing
1/2

cup

sour cream

3

tbsp

buttermilk

2

tbsp

lemon juice

2

tbsp

dijon mustard

1/2

tsp

onion powder

1/4

tsp

black pepper

1/4

tsp

garlic powder

1/2

tsp

chilli powder

1-2

green onions

finely chopped

1

tbsp

parsley

finely chopped

3

slices

bacon

cooked & finely chopped
Salad
4

slices

bacon

cooked & chopped

1/2

cup

cheese

crumbled or cubed

1/2

cucumber

diced

1

avocado

diced

1/2

tomato

diced

romaine lettuce

chopped

2

hard boiled eggs

diced

1-2

chicken breast

cooked & diced
Instructions
Divide dressing evenly between 4 750mL mason jars

Divide bacon, cucumber, cheese into the jars

Add eggs and avocado, followed by chicken and tomatoes

Fill remainder of jar with romaine lettuce

When ready to eat, simple shake up jar to mix, then enjoy!
I think the classic Bernardin 500mL jars would work great for setting out already portioned salads on a buffet table. Just place a pile of forks next so them and everyone can enjoy right from the jars!

We absolutely love simple meal ideas here, so check out more of our great recipes.
Do you love Bernardin mason jars as much as we do? Be sure to have a look at more of our mason jar crafts & recipes.

I am a busy mom to 3 kids, so my days are typically filled with tea parties & story books, singing & dancing, crafts (for as long as a 3yo's attention span will allow) & cuddles. All the while trying to keep up with laundry & cleaning & meals (we have PB&J sandwiches for dinner more often than I'll ever admit). The days (& weeks, & months) seem to speed past so I try to soak up as much as I can each day.