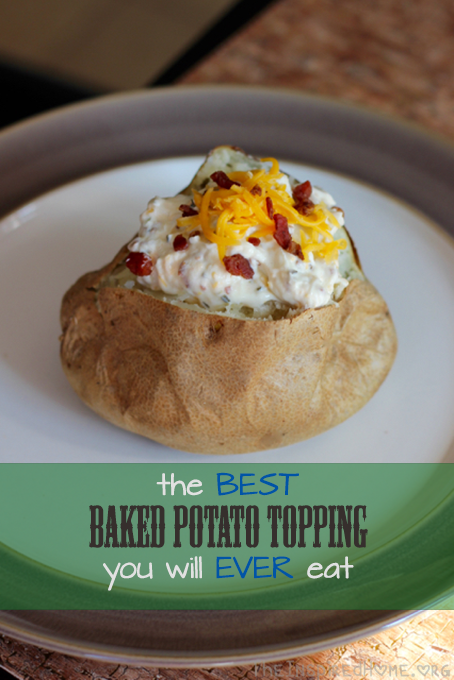 I'm not kidding when I say this is the best baked potato topping you will ever eat. I refer to it as Baked Potato Goo or just simply Crack. It's like crack. Or Frank's Red Hot – You'll put this $h!t on everything. Everyone else is always lucky it even makes it to the table because I have to keep tasting it to make sure it's not poison. And we all know that means you need to eat 20 spoonfuls of it.
I have yet to try it as a hot baked dip but I think it would be absolutely fantastic that way. A nice bubbly crust on the top…mmmmm…I'm drooling just thinking about it.
These potatoes were accompanied by grilled chicken for me, steak for hubby and a side of broccoli. We both were fighting for the last of the goo to put on every last morsel on our plates. Hubby had it piled on top of his steak. I was drowning my broccoli in it. Miss O was in a mood and refused to eat it. Hubby and I didn't argue with her – it just meant there was more for us!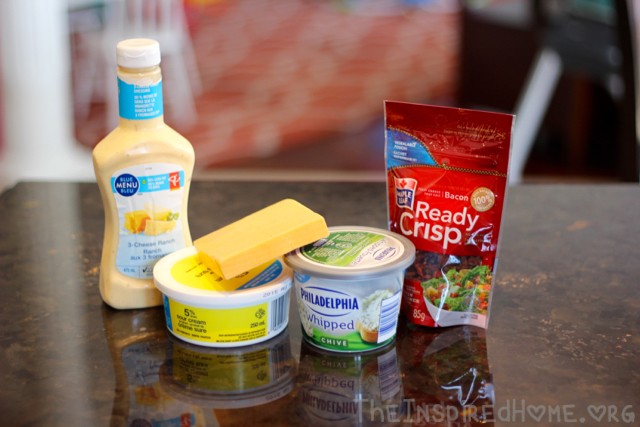 Ingredients
1 small container of sour cream (250mL)
1 container of Philadelphia Whipped Cream Cheese in Chive flavour
1 bag of real bacon bits (or make your own with about 6 slices of bacon)
1 cup shredded cheddar cheese
Three cheese ranch dressing (or regular ranch if that's what you've got)
1/2 tsp onion powder
1/2 tsp garlic salt
Cracked black pepper
How-To
Put it all in a bowl, mix it up, taste it 30 times to make sure it's just right and not poisonous. If it makes it to the table then spoon it on your potatoes and everything else on your plate. Then enjoy all the yummy noises emitting from everyone at the table…if you can hear them over your own yummy noises.