Spinach Dip with Pumpernickel Bread Bowl
My mother in law is famous for this spinach dip recipe. It's what everyone always asks her to bring to Christmas parties. She says that the recipe is so old, she doesn't remember where it came from anymore. You know it's a classic when! It's just delicious. The soft pumpernickel bread combined with the tang of the mayonnaise and sour cream meld together in a beautiful dance in your mouth.
You can imagine my chagrin this year when I realized I wouldn't be able to eat this because a) eggs in mayonnaise, and b) yeast & gluten in pumpernickel bread. I was able to overcome the mayonnaise problem by using vegan mayonnaise. I have yet to find a solution to the pumpernickel problem, so in the meantime I am enjoying it with my favourite gluten-free crackers and rice crackers.
Even though Mr J won't eat anything green (with very few exceptions), he loves dippy, so will eat this spinach dip. What an easy way to get great iron from the spinach!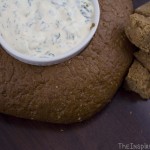 Spinach Dip with Pumpernickel Bread Bowl
A flavorful spinach dip with tasty bread bowl. The perfect recipe for parties, and easy to make ahead.
Ingredients
1

container of sour cream

500ml

2

cups

of mayonnaise

1

package of Knorr Vegetable Soup mix

1

package of frozen spinach

2

loaves of pumper nickel bread
Instructions
Mix vegetable soup & mayonnaise into the sour cream. Let sit at least an hour in advance (overnnight is best).

Defrost, drain & dry the frozen spinach. Add to dip.

Carve whole in one of the pumpernickel loves where sour cream container (or other small dish) will fit.

Slice the other loaf into bite sized strips for dipping.
Recipe Notes
To make it egg-free, add vegan mayonnaise.
To make gluten-free, use rice crackers or gluten-free crackers for dipping and omit bread.

a passionate recreation coordinator by day, crazy farm mama of two by night. i live outdoors: growing my own food, camping and hiking with my border collie with two active kids in tow. when I'm not writing, I'm experimenting with recipes, and crafts – or anything else that might keep the monkeys entertained.