This season is a busy one on the farm. We're currently trying to harvest all the things, and do bed preparation before fall and winter truly sets in. My squash hill has been quietly doubling in size all summer long. In a few weeks, we will harvest our last shares which include winter squash. Winter squash is a great cabinet staple, because they keep so well.
Last season, I picked several spaghetti squashes from a neighbour and they kept all the way into March in a dark, cool cupboard in my kitchen. So with the advent of fall, I took the opportunity to pick a few of these gigantic spaghetti squashes for dinner! This 1/2 fed my entire family of four, and I still have 1/2 left over. I call that supreme value.

If you're looking for a recipe beyond the old butter & salt routine, here's my suggestion. It's a simple one because you can use up all those pesky leftovers in your fridge that hang around like extra pasta sauce & the tail end of that roasted chicken you enjoyed.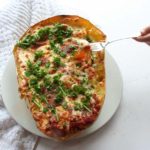 Baked Spaghetti Squash
A simple week night dinner full of squash goodness.
Ingredients
1

spaghetti squash

cut in half

1

cup

of pasta sauce

1/2

cup

of parmesan cheese

3/4

cup

of mozzarella cheese

1/4

cup

of parsley
Instructions
Cut spaghetti squash in half, spoon out seeds & pulp with a spoon.

Bake in oven upside down on a cookie sheet for 30 minutes at 400 degrees.

Flip spaghetti squash right side up and stuff with pasta sauce, and layer on cheese. Cook for additional 15 minutes.

Broil for 5 minutes on high if you like your cheese really bubbly.

Sprinkle with 1/4 cup of parsley and scoop out portions to serve.
Check out some more fall favourites from our Canadian blogger friends below!

Rustic Apple Tart @ Red Cottage Chronicles
Spicy Vegetarian Chilli @ Allergy Girl Eats
Indian-inspired Vegetable Pilaf Topped With Crispy Brussels Sprouts @ Maple and Marigold
Maple and Oatmeal Ale Pulled Chicken Sliders @ Mommydo
Mushroom Hand Pies @ Dish 'n' the Kitchen
Maple Bacon Mini-doughnuts @ Everyday Allergen-Free
Chai-Spiced Apple Sauce, Apple Butter and Apple Leather @ Making Healthy Choices
Crock Pot Chicken Pot Pie @ It's Just My Life

a passionate recreation coordinator by day, crazy farm mama of two by night. i live outdoors: growing my own food, camping and hiking with my border collie with two active kids in tow. when I'm not writing, I'm experimenting with recipes, and crafts – or anything else that might keep the monkeys entertained.