Pumpkin Carrot Praline Muffins
Living in Canada, we get to experience autumn in all its' glory. The west coast of Canada has some of the country's most beautiful national parks, nature trails and waterfronts to get out and enjoy the crisp autumn air. And let's not forget those mountain views!
There is something about the west coast spirit that that just draws visitors in and makes them want to adapt to the lifestyle. There is not one person from the west coast that I know who doesn't embrace the great outdoors, hiking, boating, skiing, and taking care of their beautiful land.

The one thing I admire most about my west coast friends is their dedication to living authentically with nature. Organic farming, raising chickens and goats as if they were family members, and wilderness enthusiasm that inspire me every day!
The beautiful west coast is also home to Olympic. Located in Delta, British Columbia their products are made with 100% natural ingredients. You can't get much fresher than the milk they use that comes from cows living close to their dairies. And if gluten is an issue for you, their products are gluten free!

Watch this video to learn more about the good nature, good people and good yogurt that makes Olympic so, well, good!
Olympic Organic Yogurt is a staple at our house for delicious protein packed breakfasts all year round, and come fall I really have to stock up!

Since I love to get back to baking as soon as the weather turns cool, yogurt is the perfect addition to cakes, loaves, sauces and, my favourite, muffins. Knowing Olympic products are made without preservatives or gelatin gives me the peace of mind that I'm feeding my family the highest quality ingredients.

Baking with yogurt ensures a delicious moist result while cutting down on the added fat. It can also add a slight tangy element that gives a whole other depth of flavour.
These Pumpkin Carrot Praline muffins are deliciously moist, and full of all the flavours of fall. They are easy to make, and taste tested by some of my toughest critics. The recipe makes 16 large muffins and freezes well. Wrap them individually before freezing and just take a couple out of the freezer each evening to pop into lunch boxes in the morning.

Or better yet, when the leaves start to change and air gets crisp, pop some into a backpack and head out for a hike in the great outdoors.

Come on all you Yogurt Aficionados! Let's get cooking. On your next trip to the grocery store watch, for Olympic's brand new look and discover their delicious line of products that are pure B.C. good.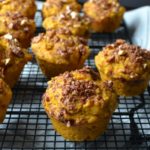 Pumpkin Carrot Praline Muffins
Ingredients
3 1/2

cups

all purpose flour

2

teaspoons

baking powder

1

tablespoon

pumpkin pie spice

1/2

teaspoon

baking soda

1

cup

shredded carrots

3/4

cup

vegetable oil

2

cups

pumpkin puree

not pumpkin pie filling

1

cup

Olympic Organic Plain yogurt

3

large eggs

1

cup

granulated sugar

1/2

cup

praline covered pecans or mixed nuts

chopped
Instructions
Preheat oven to 350 degrees and spray 16 muffin tins with non-stick spray

In a large bowl combine flour, baking powder, pumpkin pie spice, baking soda. Sprinkle in shredded carrots and stir to thoroughly combine. Set aside.

In another large bowl whisk oil, pumpkin pie puree, yogurt, eggs and sugar until well blended.

Using a wooden spoon or spatula, fold dry ingredients into the wet just until combined. Do not over mix.

Fill muffin tins almost to the top and sprinkle each generously with chopped pralined pecans.

Bake for 28-30 minutes, until toothpick inserted in the centre comes out clean. Remove from oven and enjoy warm or cool to room temperature.
Although this post has been generously sponsored by Olympic, the opinions and language are my own.

Maureen shares her passion for baking, DIY and all things home at RedCottageChronicles.com. She and her husband, daughters, and beloved golden retriever live in a tiny cottage in Ontario, Canada where you will find her up to her elbows in flour or sawdust as she creates recipes, handmade furniture or home décor accessories on a budget!