When a few of the members of my family went gluten-free, a big point of contention was the fact there was now no stuffing within the turkey. In my household, because we favour ham for special holidays, so we tend to make a pan of stuffing that goes in the oven alongside it. Making stuffing is a perfect recipe for a beginner, and one of my favourites because it can be made with a lot ingredients that you already have on hand. I save the heels of my bread, and purchase a loaf from the 50% off rack to make stuffing with.
Our recipe fills a 11×17″ pan which is usually enough to feed my family of four. For larger crowds, I suggest making a larger pan (or two) if you have stuffing lovers in your crowd.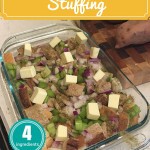 4 Ingredient Sure Fire, Simple to Make Stuffing
A simple stuffing you can make alongside your turkey or ham for holiday celebrations.
Ingredients
4

stalks of celery

1

med onion

red or white

8-10

slices

of bread

2

tbsp

of poultry seasoning

1/2-3/4

cup

of water or chicken broth

8

pats of butter

1

spray of no stick spray

Aluminum Foil
Instructions
Spray 11x17" intended container with no-stick spray.

Dice celery & onion.

Dice bread into crouton-like sizes

Add 1/2-3/4 cup of water at a time to moisten bread and mix in small bowl until damp (the amount of water largely depends on what type of bread you've picked - brown seems to sop up more).

Sprinkle 2 tbsp of poultry seasoning over bread mixture

Add 8 pats of butter and cover with aluminum foil.

Cook for 20 minutes at 350 degrees. Remove lid & allow 5 more minutes if you like your dressing crispy!

a passionate recreation coordinator by day, crazy farm mama of two by night. i live outdoors: growing my own food, camping and hiking with my border collie with two active kids in tow. when I'm not writing, I'm experimenting with recipes, and crafts – or anything else that might keep the monkeys entertained.