Print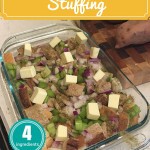 4 Ingredient Sure Fire, Simple to Make Stuffing
A simple stuffing you can make alongside your turkey or ham for holiday celebrations.
Spray 11x17" intended container with no-stick spray.

Dice celery & onion.

Dice bread into crouton-like sizes

Add 1/2-3/4 cup of water at a time to moisten bread and mix in small bowl until damp (the amount of water largely depends on what type of bread you've picked - brown seems to sop up more).

Sprinkle 2 tbsp of poultry seasoning over bread mixture

Add 8 pats of butter and cover with aluminum foil.

Cook for 20 minutes at 350 degrees. Remove lid & allow 5 more minutes if you like your dressing crispy!