In my parent's home, there weren't any convenient snack foods lying around. If you asked for a snack, 9 times out of 10 they'd put an Ontario-grown Macintosh apple in your hand. If they were out of apples, the green bin full of delights such as cabbage, carrots, celery and if you were lucky – cucumber – would come out.
I would eat my fill of vegetables and fruits, although some days I needed a little more. That's usually when I would raid the pantry for crackers. Cheese was almost always present, so a small snack of cheese and crackers satisfied me where the cabbage and carrots could not.
Fast forward a few years, and going without the gluten wiped out crackers for me. I got tired of rice cakes (there's only so many a girl can eat, after all). I got tired of the seedy gluten-free crackers you can get. Any other gluten-free cracker tasted like sawdust. For this cheese and cracker girl, these were dark times.
My gluten-free friends, I have found a great tasting solution to your snacking woes. Beans are the #1 ingredient, and it's certified gluten-free by the Canadian Celiac Association…..
Hello, Breton Bean Crackers and Breton Popped! Beans cracker chips.

Words can not express how excited I was to see a cracker chip I could eat. I squirrelled them away to my workplace and devoured them that very same morning. Breton Popped! Beans Sea Salt & Pepper and the Breton Popped! Beans Sweet Chili Cheddar made an amazing mid-morning snack. With 2g of fibre and 2g of protein in each serving, they certainly didn't hurt my meal plan either.
I was a little skeptical how they would taste with the mixture of chickpea and red bean involved. With beans, it can be hard to know if the texture will come out to delicious or not-so delicious. I really liked them, they had a light cheesey taste to them and the sea salt and pepper made a lovely finish.
I swapped out the NEW Breton Bean Crackers – Breton White Bean with Salt & Pepper and Breton Black Bean with Onion & Garlic for our typical gluten-full Breton we enjoy at home with the following two simple classic snack recipes: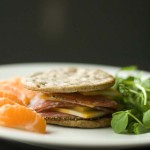 Simple Gluten-Free Snacks: Cracker Sandwich
A simple & easy gluten-free stacked cracker snack.
Ingredients
12

gluten-free Breton Black Bean with Onion & Garlic Crackers

6

cheese slices

12

cracker pepper salami slices

1

clementine

if desired

1/2

cup

pea shoots

if desired
Instructions
CUT pepper salami slices into quarters

CUT cheese slices into halves

LAYER cheese & pepper salami on to 1 cracker

ADD second cracker for a lid

ADD clementine & pea shoots if desired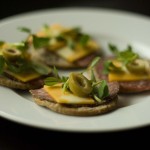 Simple Gluten-Free Snacks: Open Faced Cracker Sandwich
Ingredients
4

gluten-free Breton Black Bean with Onion & Garlic crackers

2

cheese slices

2

cracked pepper salami slices

4

pitted olives

1/8

cup

of pea shoots
Instructions
CUT pepper salami slices into halves

CUT cheese slices into quarters

LAYER 1 cheese & 1 pepper salami piece on to 1 cracker

ADD olive & pea shoot to garnish
With 3g of fibre and 2g of protein per serving, both Breton Bean crackers are a healthy alternative. Get out and buy a box of these to try, visit the
Dare Foods website
or like
Breton on Facebook
for more healthy recipes ideas.
Join the Party!
Visit sheblogs Canada to RSVP to the #BretonBean Twitter party!
You can also check out the upcoming contests on Instagram and Twitter, where they could win cash prizes and Dare Foods products.
Although this post has been generously sponsored by Dare Foods Limited, the opinions and language are my own, and in no way do they reflect Dare Foods Limited.

a passionate recreation coordinator by day, crazy farm mama of two by night. i live outdoors: growing my own food, camping and hiking with my border collie with two active kids in tow. when I'm not writing, I'm experimenting with recipes, and crafts – or anything else that might keep the monkeys entertained.