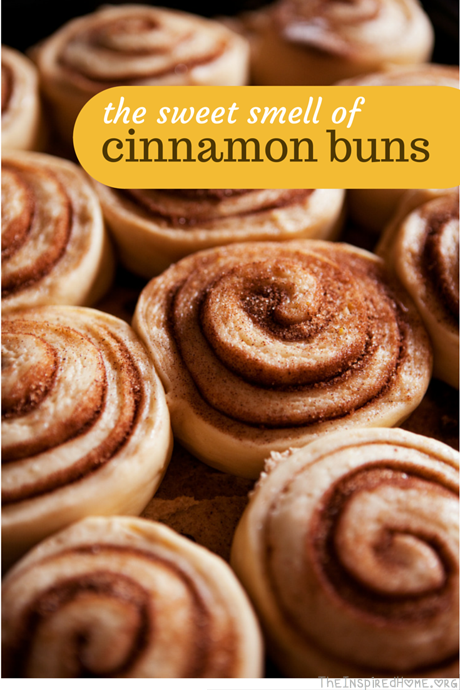 There are certain smells that I associate with places, people and feelings that I've discovered. Sun screen, sweat and a dash of grass reminds of me of summer camp. Vanilla reminds me of my college roommate who constantly liked to burn vanilla candles or oil warmers while she studied. The greatest smell of all to me has to be the sweet smell of baking cinnamon buns.
My mom made cinnamon buns when I was a kid. Gloriously thick ones, plump with raisins, brown sugar and butter that had been browned to perfection in her oven. As a kid, I could never find the rhyme or reason to why we would be surprised by the buns. (Now, I suspect that it may have been those weeks where we got to the end of the bread before the next shopping trip.) I remember my own joy each time she would agree to make them.

She would flour an entire counter surface, and get out the ingredients to make the dough. Butter, more flour, milk, eggs, baking powder and baking soda. We would mix up the dough. Laughing, you would eat the sticky dough off your fingers after rolling it out, then rinse them. The next step was to spread butter out on the rolls, sprinkle brown sugar and raisins on it. I loved to sprinkle the brown sugar with my hands and pat it into the dough. I can still feel the textures, and remember how I was so proud when it rolled up perfectly and didn't stick to the counter.
The smell of the trays of rolls we'd make together is etched into my memory. A sweet smell of cinnamon and sugar coming together in one of the most perfect and simple desserts. Smells like mom's baking are ingrained into the scent stories that happen in our houses and families.

Recently, I had the opportunity to try Air Wick® Life Scents™ Scented Oil, Mom's Baking and Summer Delights. Mom's Baking was my favourite scent story as it mimicked that tangy smell of baked pear, vanilla beans and pie crust that I so strongly recommended. I do like to bake, but I don't always have time to do so! Adding the Air Wick® Life Scents™ Mom's Baking Scented Oil to my kitchen provided those 3 fragrances mixing and mingling together like I had just baked a pie. And even better the 3 scents constantly change in harmony and last for up to 45 days based on a low setting. What busy mom doesn't love that shortcut?
Check out Air Wick®'s Facebook page to try the Air Wick® Life Scents™ Scented Oil Free with mail-in rebate and see how these new fragrances can help create your own home experiences.
Although this post has been generously sponsored by Air Wick®, the opinions and language are my own, and in no way do they reflect Air Wick®.

a passionate recreation coordinator by day, crazy farm mama of two by night. i live outdoors: growing my own food, camping and hiking with my border collie with two active kids in tow. when I'm not writing, I'm experimenting with recipes, and crafts – or anything else that might keep the monkeys entertained.