Peppermint Brownies
Mint and chocolate is one of my favourite flavour combinations. A few years ago when I came across a peppermint brownies recipe, I just had to make it. I ate half the pan since they turned out amazing. These peppermint brownies have become a staple in my holiday baking plan and they are always a hit.

Secrets to the Perfect Peppermint Brownies
I have made this recipe enough times now to work out the kinks and learn a couple secrets to make it come together smoothly. Are you ready? I've got four simple tips to help you make these peppermint brownies as perfectly as I do each year.
Secret #1
I highly recommend lining the baking pan with parchment paper instead of greasing it. Since you are adding a candy into the batter, it will stick to the pan no matter how well you grease it. The parchment paper allows you to simply lift the peppermint brownies out once they are cool and cut them with ease.
Secret #2
There are pros and cons to using different sizes of Peppermint Patties according to Maid Easy AZ. The "mini" size typically comes unwrapped and gives a chunkier appearance in the brownie. The "small" size (approx. 1 1/2 inch) need to be chopped up, they come individually wrapped, and they melt more into the brownie so you don't see them once baked. Depending on your preferences, you can choose the size that is right for you.
Secret #3
I find these brownies always need the full bake time, even taking into consideration that my oven runs hot. I start to check them around the 30 minute mark, just to be safe.
Secret #4
And finally, these freeze great! I have made them well in advance of the holidays and frozen them for about 4 weeks prior to thawing and serving, and they taste as good as they day they are baked.

I first found this recipe in Hersey's Timeless Treasures Cookbook.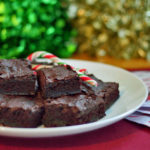 Peppermint Brownies
Ingredients
3/4

cup

cocoa powder

1/2

teaspoon

baking soda

2/3

cup

butter or margarine

melted and divided

1/2

cup

boiling water

2

cups

sugar

2

eggs

lightly beaten

1 1/3

cup

all-purpose flour

1

teaspoon

vanilla extract

1/4

teaspoon

salt

1 1/3

cups

York Peppermint Patties

8 oz package of mini's, or 16-17 small, coarsely chopped
Instructions
Heat oven to 350°F.

Line 13x9x2 inch baking pan with parchment paper, set aside.

Stir together cocoa powder and baking soda in large bowl; stir in 1/3 cup melted butter. Add boiling water; stir until mixture thickens.

Stir in sugar, eggs, and remaining melted butter until mixture is smooth.

Add flour, vanilla, and salt; stir until completely blended together.

Stir in peppermint patties.

Pour into prepared pan, and spread evenly.

Bake 35-40 minutes, or until brownies start to pull away from sides of pan.

Cool completely in pan on wire rack

Cut into bars.

I am a busy mom to 3 kids, so my days are typically filled with tea parties & story books, singing & dancing, crafts (for as long as a 3yo's attention span will allow) & cuddles. All the while trying to keep up with laundry & cleaning & meals (we have PB&J sandwiches for dinner more often than I'll ever admit). The days (& weeks, & months) seem to speed past so I try to soak up as much as I can each day.