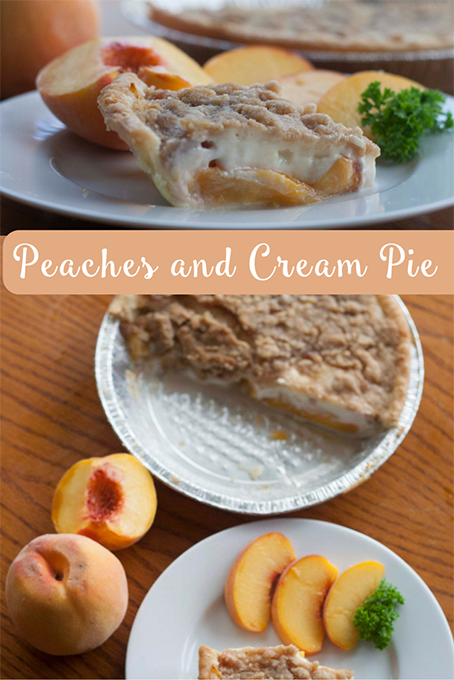 Peaches and Cream Pie
For our wedding, there was only a few requests that my husband, Doug had to include. One was that his grandmother bake a few Peaches & Cream pies for us, as it is his absolute favourite dessert. As an ode to our quirks, we cut one as our cake and enjoyed many slices of it at our wedding. In fact, the LaRochelle's rushed to get at this absolute family favourite.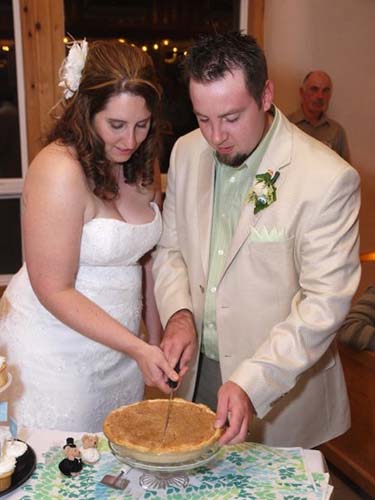 As a young married woman, I knew I had to be able to master this pie. My husband bragged several times about the delicious, mouth watering recipes his mother and grandmother whipped together. I asked for the recipes, and rolled up my sleeves to learn these family favourites. Some provided to be more difficult than others as not all of them had straightforward recipes with measurements- instead a dab of this, a dab of that, and magic was made. Those ones took me a little time to figure out. Doug didn't want to make me feel bad so when I made a lot of substandard recipes, he smiled and was enthusiastic anyway. I admit, I made several substandard Peaches and Cream Pies when I was working this one out, but he didn't mind eating those either.
With peach season on the horizon again, I knew I had to share this one and include the hints and tips that I've discovered along the way to make it the best one one you can serve as a dessert or even breakfast. At my house, I have to make at least 2 each time I bake as they never last very long.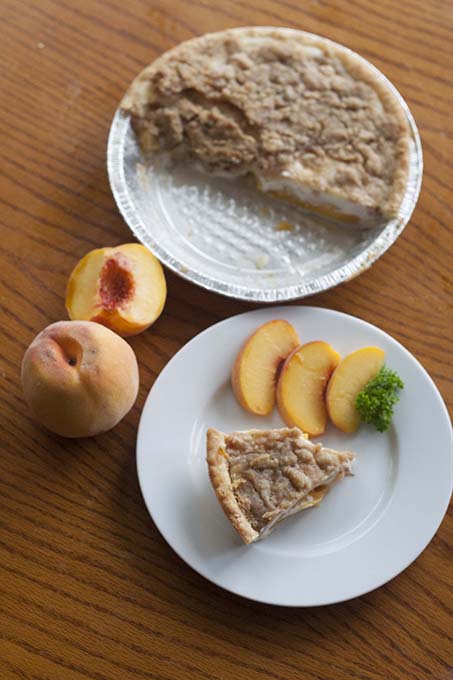 Peaches and Cream Pie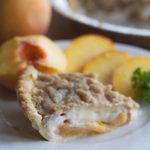 1 unbaked pie shell
5 peaches
2 trays of ice cubes or 1/4 bag of ice
Filling
3/4 cup sour cream
1/2 cup granulated sugar
1/4 cup flour
Topping
1 cup flour
1 cup brown sugar
1 pinch of cinnamon
1/4 cup butter
Preheat oven to 350F.
Bring a large pot of water to boil.
Place peaches in the boiling water for 3-5 minutes until cooked.
Prepare ice bath in large bowl or sink – with ice cubes & very cold water.
Use a slotted spoon to lift peaches from pot into ice bath.
Brown unbaked pie shell in oven for 5-7 minutes until golden brown. Put a mug in the middle of the pie crust to keep the middle from bubbling. Let cool.
When cool, peel skins from peaches and slice peaches into chunks or slices into the pie crust.
Mix filling and add overtop of peaches in pie crust.
Cut topping dry ingredients into butter with a pastry cutter. Sprinkle over top of the pie. Make sure the topping covers the entire top.
Bake in the oven on 350F for 35-40 minutes.
I recommend using deep dish pie crusts and placing a cookie sheet under your pie while you bake it.