Peach Carrot Smoothie
My kids are huge smoothie fans. You get the blender out – especially in the morning – and they come running to see what your latest creation is going to be. I started them off with really simple and delicious creations like a Strawberry Banana Smoothie. Lately I have moved towards smoothies that are packed full of nutrition, especially as we get into these fall & winter months.
I also use canned fruits that we preserved this summer like peaches, pears, plums and frozen berries. This gives us a break from the inexpensive fruit which tends to be all apples, oranges and bananas. If you haven't canned or frozen the seasonal fruit in your area – don't worry. Frozen fruit or canned in water fruit from your local grocery store will work just fine.
Carrots are inexpensive way to kick smoothies into high gear in the fall & winter. Did you know they store a gold mine of nutrients? They are 87% water and contain vitamin A, B, C, D, E, an alphabet of good-for-you!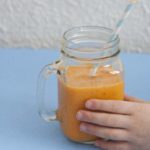 Peach Carrot Smoothie
Ingredients
2

cups

of frozen or canned peaches

1

cup

of carrot juice

1/2

cup

of peach yogurt

2

banana

crisp

A handful of ice cubes

Optional: protein powder
Instructions
Throw it all in the blender and enjoy.
Recipe Notes
Yields about 16 oz.

a passionate recreation coordinator by day, crazy farm mama of two by night. i live outdoors: growing my own food, camping and hiking with my border collie with two active kids in tow. when I'm not writing, I'm experimenting with recipes, and crafts – or anything else that might keep the monkeys entertained.