Pasta Salad: Two Ways
We both love easy-to-make simple pasta salads for outdoor entertaining in summer. As a hostess, I'm always rushing around at the last minute putting the finishing touches on the event. It's such a relief to be able to pull out a tomato salad, quinoa salad, or potato salad to compliment our favourite BBQ recipes. Add in a little Lazy Lemonade, and you've got an outdoor BBQ worth writing home about!
Gluten-Free Colourful Pasta Salad

I'm a big fan of Today, I Ate a Rainbow, and this salad sure reflects that! You can customize your own salad to whatever veggies you have available in your fridge, although this is my favourite combination.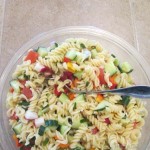 Gluten-Free Colourful Pasta Salad
A veggie-filled pasta salad with a tangy for your next outdoor event.
Ingredients
1/2

box of gluten-free pasta

1

tomato

1

English Cucumber

6

radishes

1

yellow pepper

1

orange pepper

1

handful of fresh chives
Instructions
Cook pasta according to box instructions

Allow pasta to cool in fridge until chilled

Chop all vegetables into bite sized pieces

Add olive oil & italian dressing and toss
Recipe Notes
For best results, chill at least 30 minutes before serving.
Simple Pasta Salad with Goat Cheese

This pasta salad was made from the leftovers on the veggie tray after Miss O's birthday party. It was a quick way to use up a large quantity of raw veggies before they went bad. I also added a few things that came fresh from the farmer's market!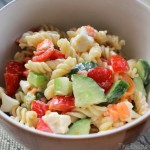 Simple Pasta Salad with Goat Cheese
Use up all those leftover raw veggies in your fridge and spice it up with some goat cheese and your favourite dressing for a fresh, summer meal.
Ingredients
1

box of your favourite pasta

I use Catelli Smart Fusilli or Rotini

2

stalks of celery

1

handful of baby carrots

1

English cucumber

1/2

red pepper

or other colour

1

large handful of cauliflower florets

10

cherry tomatoes

approx.

Your favourite citrusy vinaigrette

I like the Kraft fruit + veg line

Goat cheese

plain or herbed
Instructions
Prepare pasta according to box directions; cook to al dente.

Once pasta is done, drain (don't rinse!) then toss in a large bowl with a few big squirts of salad dressing. Put the bowl, covered, in the fridge.

Chop up all your veg to bite-size pieces. Once that's done, add to your pasta. Add more dressing as necessary.

Break apart your goat cheese and mix it all into the salad.

Cover and chill at least 30min before serving.
Recipe Notes
If you don't like goat cheese, you can substitute for feta or freshly grated parmesan.
Change the veggies as you like them! Broccoli is also great in pasta salads.

a passionate recreation coordinator by day, crazy farm mama of two by night. i live outdoors: growing my own food, camping and hiking with my border collie with two active kids in tow. when I'm not writing, I'm experimenting with recipes, and crafts – or anything else that might keep the monkeys entertained.