Simple Tomato Salad
This is the part of the winter where I start dreaming of spring and my garden. You might think February is too early to start planning, but it's really not! If you're starting from seed, especially here in zone 3a, you have to start your seeds early for best results. The 120 day varieties need all the help they can get to get a full growing season in.
One of my favourite things to pick fresh from the vine is tomatoes, hands down. Outside of my mom & dad's house is a gigantic garden that my mom would plant every year. We spent lots of time weeding and cultivating our food in it. Come August the tomatoes would be so plentiful that you would take a colander and pick some for dinner each night. The smell of warmed tomato flesh coupled with the earth is just a smell that is imprinted in my memory.
This year, I decided to get this little piece of heaven in Alberta. I planted 9 (yes, NINE) different varieties of tomatoes as a little experiment. I started some from seed, I started plugs in my AeroGarden and I bought a few plants in Edmonton at the farmer's market. The tomatoes loved being in the Hinton Community Greenhouse and did exceedingly well. And yes, I was there with my colander each night!

The original recipe of this comes from a very old Weight Watchers cookbook, but I have since renovated the recipe many times to make it even more delicious. It has become a family favourite and it's a great use for that tomato bounty (or help you dream of spring with me). You can also toss more vegetables in if you want to give the tomato salad even more of a nutritional punch!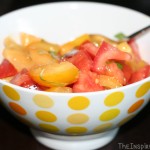 Simple Tomato Salad
A easy and quick simple tomato salad to share with the whole family, great use for summer tomato bounty!
Ingredients
4-6

tomatoes

medium size, any kind

1/2

red onion. medium

1/3

cup

of fresh basil

3

tbsp

balsamic vinegar

3

tbsp

olive oil

Sprinkle salt & pepper
Instructions
Whisk olive oil, balsamic vinegar, pinch of salt & pepper together.

Chop onion, tomatoes

Snip fresh basil into mixture

Stir together

For best results, chill for at least an hour before serving - overnight will make it even better!
Recipe Notes
Original recipe also has dijon mustard. Add 1 tbsp if you need the extra zing
What your favourite summer food you're missing?

a passionate recreation coordinator by day, crazy farm mama of two by night. i live outdoors: growing my own food, camping and hiking with my border collie with two active kids in tow. when I'm not writing, I'm experimenting with recipes, and crafts – or anything else that might keep the monkeys entertained.