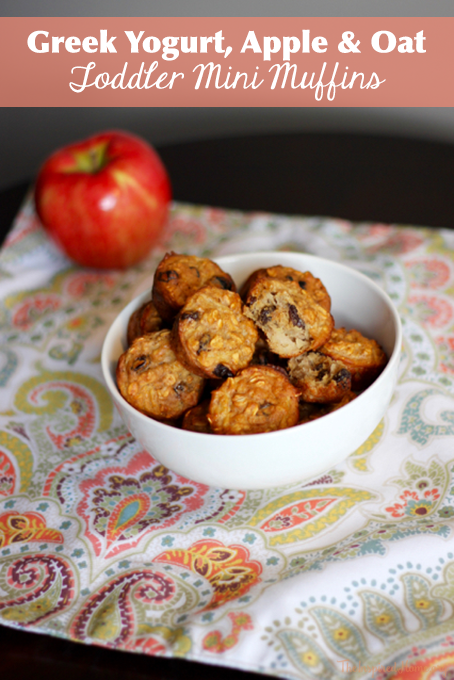 My kids love bread. In any shape or form, they will eat it. Muffins are a type of bread and they will also devour those. So I like to find a healthier recipe to make kid-sized muffins for them. Little J is 20 months old and Miss O will be 4 in June. Now that little J is older, I can feed both of them the same foods which saves me soooo much time!
They both love apples and I mean looooooove apples. Given a choice, they will always choose apples. Neither of them particularly like oatmeal but oats are such a great source of nutrition. I like to bake with them where I can. Greek yogurt is a great source of protein and a simple way to fill up a belly. Little J is a bottomless pit so I try to incorporate greek yogurt into his diet daily to help curb his appetite. I'd say he was a big fan of these muffins!

These muffins are simple to make and I always have the ingredients on-hand. They don't take too incredibly long to make so I can whip these up in no time, usually on a weekend while Little J naps and Miss O hangs out with daddy. And these muffins are DELICIOUS. I could eat them by the handful. Everyone in the house kept gobbling them up. I made them on a Saturday afternoon and we polished them off at breakfast on Monday!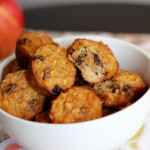 Greek Yogurt, Apple & Oat Toddler Mini Muffins
A healthy and delicious mini muffin perfect for toddlers and everyone else in the family.
Ingredients
1

cup

Robin Hood 'Tastes Like White' flour or all-purpose flour

see notes below

1

cup

old fashioned rolled oats

1 1/2

tsp

baking powder

1/2

tsp

baking soda

1

tsp

cinnamon

Dash of salt

1

large egg

1

cup

vanilla or plain greek yogurt

1/2

cup

unsweetened applesauce

single-serve containers are 1/2 cup - yay!

1/4

cup

brown sugar

1

tsp

vanilla extract

1

sweet apple

I use Honeycrisp; peeled, cored and grated

1/2

cup

raisins
Instructions
Preheat oven to 350°F. Spray mini muffin tins with cooking spray - no papers required.

In a large mixing bowl, combine the flour (measured correctly - see notes below), oats, baking powder, baking soda, cinnamon and salt.

In a separate bowl, whisk together the egg, greek yogurt, applesauce, brown sugar, vanilla extract and grated apple, stirring together until well combined.

Add the wet ingredients to the dry ingredients, ensuring you mix gently until everything is just combined. Next, gently stir in the raisins.

Spoon the batter into the muffin tins, filling almost to the top.

Bake muffins for 25-30 minutes or until top is firm to the touch and toothpick inserted into the centre comes out clean. My oven tends to be a bit finicky so keep an eye on them after 20 minutes.

Allow muffins to cool in pan for 10 minutes before transferring to a wire rack to cool completely.
Recipe Notes
Do your muffins always turn out dense? You might not be scooping the flour properly which results in too much flour for the recipe. The correct method is to use a small spoon to scoop the flour into your measuring cup. Never scoop directly from the bag with your measuring cup! Also, don't tap the measuring cup on the counter as you're adding the flour. Simply spoon it in until overflowing then use a straight edge to level off the excess back into the bag.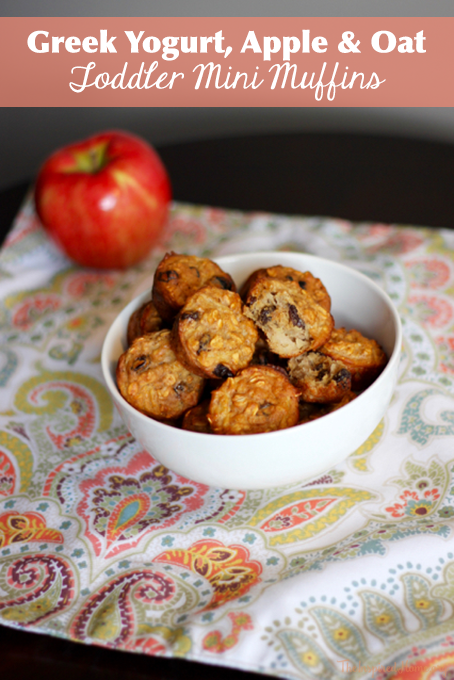 Andrea can always be found with a new craft in front of her, a form of technology on her right and a coffee on her left. This is how she survives suburbia with her two crazy toddlers in tow.