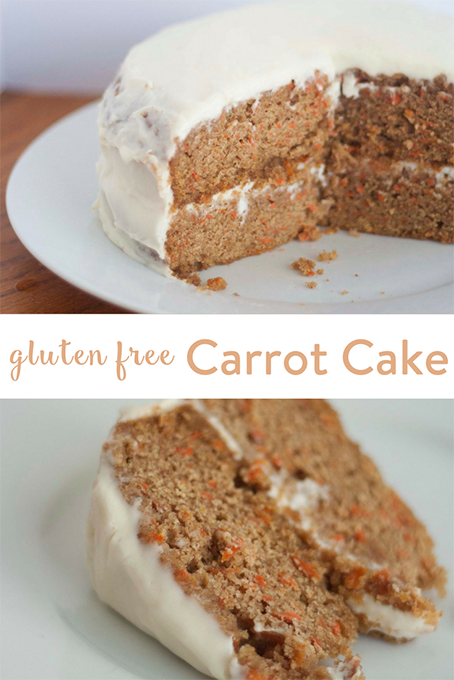 Gluten Free Carrot Cake
I have a love affair with carrot cake that has been going on for some time now. If you ask me what kind of cake I want to make, the answer hands down is going to be carrot cake with cream cheese icing. Its my birthday cake pick, and what I make for special occasions.
Unfortunately, I also have a problem with gluten and I have been trying hard to reduce it from my diet. My mom is in the same boat, but is much more allergic than I am. She takes family favourite recipes and works her magic on them until they are gluten free. She has worked wonders on my favourite carrot cake until it is now gluten free carrot cake.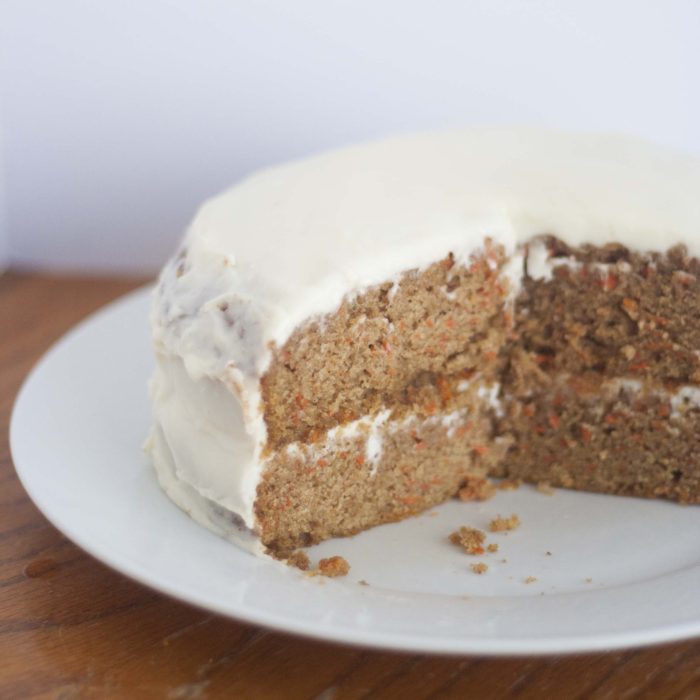 The beautiful part about any cake that has vegetables in it is that it softens the recipe deliciously. This cake is no exception. With the right gluten-free flour mix, your guests (gluten free or not) won't even know it's gluten free. All they will be saying is – more, please.
Don't leave out the cream cheese icing – it's my favourite part.
Gluten Free Carrot Cake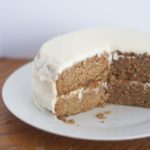 A delicious moist gluten-free carrot cake that you won't even know is gluten free.
Gluten Free Carrot Cake
2/3 cup brown rice flour
1 cup all purpose gluten-free flour
1/3 cup corn starch
2 tsp xanthan gum
1 cup white sugar
1 tsp baking soda
1 tsp baking powder
1/2 tsp salt
2 tsp ground cinnamon
3/4 cup oil
1/2 cup water
4 cups organic carrots (grated)
Cream Cheese Icing
8 oz cream cheese
4 cups icing sugar
2 tsp vanilla
Preheat oven to 350F.

Mix together brown rice flour, gluten-free flour, corn starch, xanthan gum, sugar, baking soda, baking power, salt, ground cinnamon in a bowl.

Mix in wet ingredients (oil, water). Add grated carrots after mixed.

Let the batter sit to absorb the liquid for 7-9 minutes before putting the pan in the oven to bake.

Bake 35-45 minutes or 18-22 minutes if you're doing muffins. Remove cake from oven and let cool.

Beat together cream cheese, icing sugar, vanilla until consistency desired. When cake is completely cooled, ice.
Need some more Easter favourite recipes to try? Check our these 4 other recipes from our Canadian blogger friends.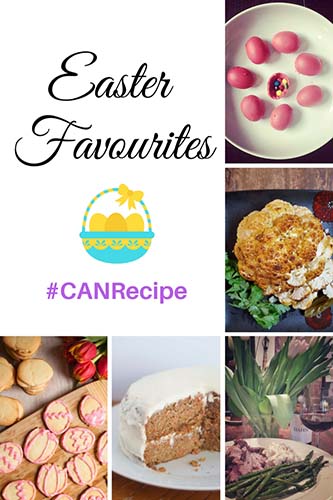 Easter Eggs from Mommydo.com
Whole Roasted Cauliflower from Maple and Marigold
Dairy-free Sugar Cookies from Allergy Girl Eats
Ontario Lamb Dinner from Off The Porch


Looking for more easy dessert recipes? Check these out.
More things to make? How about a Chocolate Easter Bunny Cake?