Some nights you have time when you get home to start dinner from scratch. Some nights you know you will be running in the door later than you would like, and trying to throw something together in the blink of the eye. That's when your good friend, the slow cooker, comes in especially handy. When you plan out your week and know which nights are going to be the most hectic, take a few minutes and plan out an easy slow cooker dinner recipe to ensure you still get a healthy and delicious meal on the table.
Slow Cooker Recipes To Make:
A staple in every house, mac and cheese is a great quick dinner any night of the week. This recipe for Amazingly Easy Slow Cooker Mac and Cheese will have your dinner ready and waiting when you rush in the door.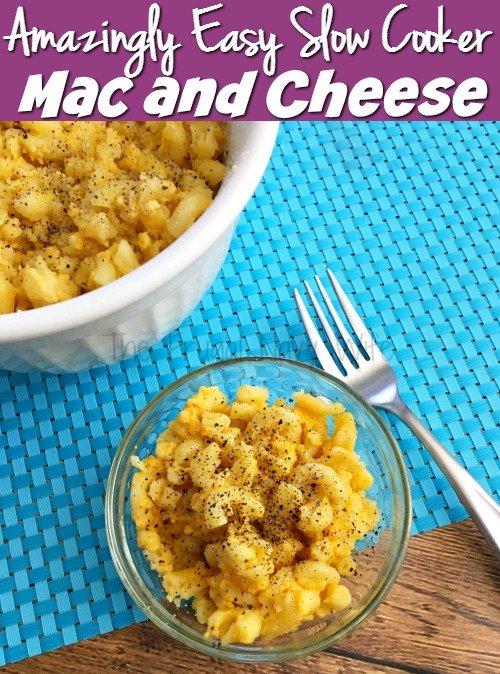 This recipe for Garlic Parmesan Crockpot Dump Chicken would be perfect over pasta (as pictured) or veggies or rice. It's a great versatile recipe to have on hand.

This Slow Cooker Butternut Squash Chicken Quinoa Stew is a must make recipe for the cooler fall nights – warm, hearty, and mouthwatering.

So simple and delicious, not to mention great for left overs the next day, this Slow Cooker Pulled Pork Recipe is sure to please everyone around the table.

Slow Cooker Pot Roast is ideal when you want your main & sides all cooked together in the slower cooker and ready to serve when you walk in the door.

Most people love a meaty chili, but having a vegetarian option is always good. This recipe for Slow Cooker Vegetarian Chili is so simple & easy to throw together.

This recipe calls for pork and cinnamon together – a new twist on your typical way of cooking pork. Give this recipe for Slow Cooker Apple Pork Loin a try tonight.

Chicken Tacos in the slow cooker? Absolutely! Add this recipe to your meal planning for the week.

With all these amazing recipes to try, which one has caught your attention?

a passionate recreation coordinator by day, crazy farm mama of two by night. i live outdoors: growing my own food, camping and hiking with my border collie with two active kids in tow. when I'm not writing, I'm experimenting with recipes, and crafts – or anything else that might keep the monkeys entertained.