Blueberry season is my favourite season. I have so many amazing memories of blueberry season as a kid. I went picking at the golf course close to my house, along the abandoned railway tracks near our camp (Northern Ontario-speak for cottage or cabin) and just about anywhere else that might yield that plump, juicy blueberry goodness.

I'm a little ashamed to say I've never brought the kids berry picking but I think this is the year. I'm not sure if we'll be heading to a local picking farm or if we'll venture out into the wild, but berry picking is on my list of things to do with the kids to help create more memories like the ones I have from childhood.
I also really love the taste of wild blueberries – so it's not just about the kiddies. Whenever someone drives from my home town to the big city, I beg them to stop along the road and buy fresh picked blueberries from one of the many pickers set up to sell in fields and driveways. I love blueberry pancakes, blueberry muffins and blueberry pie. All are heaven.

In an effort to branch out, I recently made this Country Blueberry Fritter Loaf recipe from The Baking ChocolaTess with some small changes so it would be lactose-free. I used store bought blueberries, but now that I know it's delicious, I can't wait to try it again with precious wild blueberries. It's so seriously good, you might consider making a double batch. No need for lactose-free? Choose to use the regular dairy ingredients instead.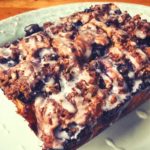 Lactose-Free Country Blueberry Fritter Loaf
A delicious loaf using wild, frozen or store-bought blueberries that can be made both with or without dairy.
Ingredients
1/3

cup

light brown sugar

1

teaspoon

ground cinnamon

2/3

cup

white sugar

1/2

cup

Earth Balance vegan butter

or butter, softened

2

eggs

1 1/2

teaspoons

vanilla extract

1 1/2

cups

all-purpose flour

1 3/4

teaspoons

baking powder

1/2

cup

lactose-free milk with 1 tablespoon vinegar

or buttermilk

1 1/4

cup

blueberry mixture

rinse blueberries and while still wet, mix with 2 tablespoons granulated sugar and 1 teaspoon cinnamon
Ingredients for Old-Fashioned Creme Glaze
1/2

cup

of powdered sugar

1-3

tablespoons

of lactose-free milk or lactose-free cream

depending on thickness of glaze wanted
Instructions
Preheat oven to 350 degrees. Use a 9x5-inch loaf pan sprayed with non-stick spray or line pan foil and spray so it's easy to remove for slicing.

Create lactose-free buttermilk by stirring 1 tablespoon of vinegar into ½ cup lactose-free milk and let sit for 20 min.

Mix brown sugar and cinnamon together in a bowl. Set aside.

In another medium-sized bowl, beat white sugar and vegan butter together using an electric mixer until smooth and creamy.

Beat in eggs, 1 at a time, until blended; add in vanilla extract.

Combine & whisk flour and baking powder together in another bowl then add into creamed vegan butter mixture and stir until blended.

Mix lactose-free buttermilk into batter until smooth.

Pour half the batter into the prepared loaf pan; add half the blueberry mixture and then half the brown sugar/cinnamon mixture on top.

Pour the remaining cake loaf batter over blueberry layer and top with remaining blueberries and brown sugar/cinnamon mixture on top.

Lightly pat blueberry mixture into batter; very lightly swirl brown sugar mixture through blueberries using knife or spoon but don't touch bottom of pan.

Bake in the preheated oven until a toothpick inserted in the center of the loaf comes out clean, approximately 50-60 minutes.

To make glaze, mix powdered sugar and lactose-free milk or lactose-free cream together until well mixed.

Let cool for about 15 minutes before drizzling with glaze.
Recipe Notes
Frozen blueberries can also be used.
Slight adaptation from Country Blueberry Fritter Loaf which was adapted from Awesome Country Apple Fritter Loaf.

Melanie from mommydo.com writes about parenting, food, neat stuff and the unexpected beauty in life, all while juggling work, family life and spreading awareness and raising funds for Williams Syndrome.