Cilantro Salmon with Rice
There was a time when my kids thought fish for dinner was just "ewww." As you can tell they weren't fans. And neither was my hubby – he's a big meat and potatoes guy and that meant I had to listen to a whole lot of complaints come dinner time. While the kids don't agree on many things they seem to have changed their minds about fish, and this delicious and easy salmon recipe is now a permanent feature come dinner time. With it's ability to take on bold flavours really well and chock full of essential Omega-3 fatty acids, salmon has made it top of my list whenever I go grocery shopping for the family.

A favourite weeknight dinner, this dish also makes a lovely summers night meal when you want fresh flavours, fast, with as little time spent in the kitchen as possible. I serve this dish with steamed rice and simple vegetables. My kids love this easy broccoli recipe and it pairs well with the salmon. It also looks really pretty on the plate. Yummy!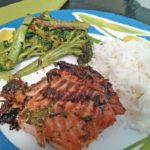 Cilantro Salmon with Rice
Ingredients
For the marinade
1

tbsp

mustard

2

tbsp

regular soy sauce

2

cloves

chopped garlic

1

tbsp

maple syrup or honey

A handful of chopped cilantro leaves

A handful of chopped cilantro stems
Instructions
Mix all the ingredients for the marinade together in a frying pan.

Leave the salmon fillets in this yummy marinade for 15-20 minutes while you get the vegetables ready.

Put the pan on medium heat. Leave a lid on halfway across the pan. You don't want to cover it all the way otherwise the fish won't retain the crispiness, at the same time you do need to protect yourself from the splatter as the marinade heats up.

Cook each side for 8-10 mins. When it starts to flake that's when you know it's ready.

Serve it with rice and your favourite vegetables.

Puneeta lives in Toronto with her hubby and two kids, and loves the colour her Indian roots bring to her life here. You can find her on MapleandMarigold.com where she writes about family, food, kids, and how to make every day enjoyable, healthy, and delicious.