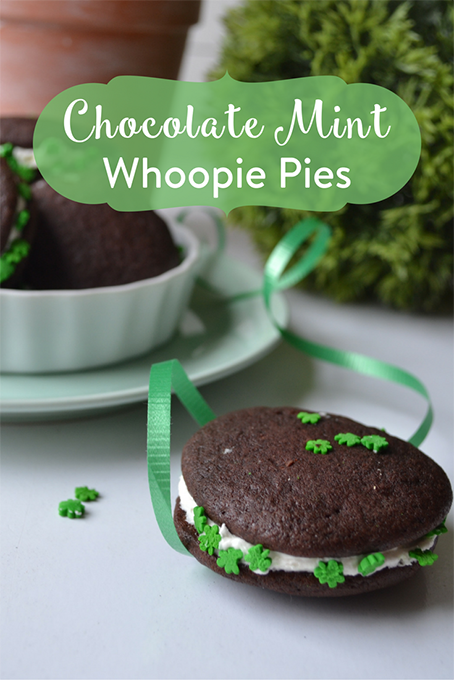 My girls are long since past school age, but I always remember how much they looked forward to St.Patrick's Day at school. They would head out all dressed in green, sometimes wearing four leaf clover shaped sunglasses and glittery green top hats!
Plus St.Patrick's Day meant a party in the classroom complete with games, music and sweet treats!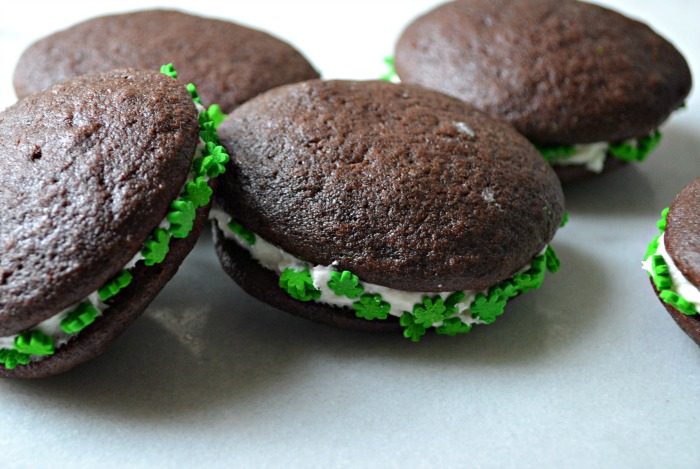 Now, back then I really hadn't embraced my inner baker, so it was usually a store bought package of cupcakes with plastic shamrock rings for decoration. I did put a little effort into the presentation and removed them from their original bakery department packaging!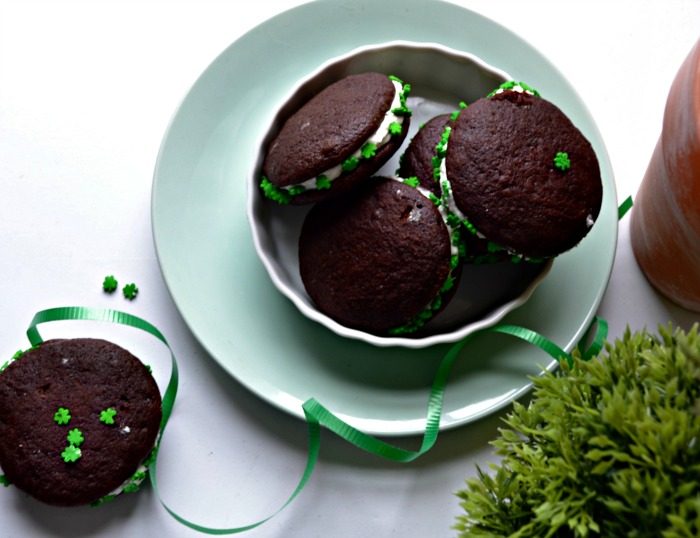 Now St.Patrick's Day is an excuse for me to actually bake some special treats! Like these Chocolate Mint Whoopie Pies. Two rich chocolate cookies, light as air surround a minty marshmallow filling. They are really easy to make, and the kids will love helping to decorate them with little shamrock quins.
Whether you are baking for your kids class party or just for fun, I have no doubt these St.Patrick's Day cookies will be a big hit!
Chocolate Mint Whoopie Pies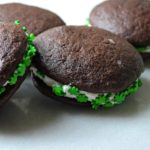 1/2 cup shortening
1 cup sugar
1 egg
1 teaspoon pure vanilla extract
1 3/4 cup all purpose flour
1/2 cup cocoa
1 1/4 teaspoon baking soda
1 cup sour milk (place 1 tablespoon vinegar in a one cup measure and fill with milk, allow to stand for 10 minutes)
Filling
1/4 cup butter
1/4 cup shortening
1 cup marshmallow creme
1 cup confectioners sugar
1 teaspoon mint extract
1/2 cup shamrock quins
Preheat oven to 350 degrees. Line cookie sheets with parchment paper.
Beat shortening and sugar until well blended.
Add egg and vanilla, beat well.
Whisk together dry ingredients and add to sugar mixture alternately with buttermilk, mixes well after each addition.
Drop by heaping teaspoons full onto prepared cookie sheets, leaving room between each for expansion.
Bake 7 to 8 minutes, allow to cool for a few minutes before transferring to a cooling rack to cool completely.
To prepare filling
Butter butter and shortening until creamy, add marshmallow creme and beat until incorporated.
Add Peppermint extract, and beat until combined.
Gradually add confectioners sugar, and beat until fluffy and well combined.
Spread about 1 tablespoon of filling on flat side of cookie and top with a second cookie (flat side touching filling.
Fill a bowl with shamrock quins and hold each cookie over the bowl while sprinkling quins onto the edges, gently pressing into filling as necessary.