Looking for a quick and simple meal to whip up for you and the kids for lunch? Look no further than this simple avocado quesadilla. You only need 4 ingredients to make a simple, healthy lunch that the kids will enjoy – and so will you! Tortillas, avocadoes, ham and cheese are all you need to make this recipe.
I made this quesadilla for dinner one night for hubby, myself and Miss O. Having a newborn in the house along with a toddler really saps my energy. I find myself looking for uber-quick meals that are simple to prepare yet cover the food groups. This recipe most definitely fell into that category which is why it became dinner! Miss O will eat just about anything green so I knew it would go over well with her.
How-To
Take a frying pan and coat with cooking spray. Lay down a tortilla round. Cut open a ripe avocado or two, remove the pit, spoon out the flesh and spread it all over the tortilla.

Next, sprinkle on a layer of ham. You can use lunch meat torn into pieces but I had leftover ham that I cubed and used in this recipe. If you want to add a little bit more flavour, I suggest adding your spices on this layer. Suggestions are salt, pepper, red pepper flakes, garlic salt or just about any other spice you love!

The final layer is grated cheese. All quesadillas need cheese! I just used a basic medium cheddar brick cheese but you can use whatever you have on-hand. I wouldn't suggest anything mild like a mozzarella though. I think a nice, sharp old cheddar would be been delicious!

Turn the heat on to medium-high and place another tortilla on top. As the cheese starts to melt, press the top tortilla down so it sticks. Keep an eye on the bottom tortilla and flip the whole kit & caboodle once it has browned. I had to get hubby to flip it – he's really the master at that. I always lose all the stuff inside or drop it on the counter. Once the other side is browned and the cheese is all ooey gooey, cut into quarters and serve! I'm not a sour cream fan but I guess it would be dipped in that or perhaps a bit of salsa. We just ate them plain – the avocado adds a wonderful creaminess on its own.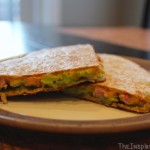 Avocado Quesadilla
A quick and simple meal using only 4 ingredients that is toddler approved!
Ingredients
2

large tortillas

1-2

ripe avocados depending on size

2-3

slices

of ham - lunch meat torn into pieces or cooked & cubed

1

cup

grated cheddar cheese
Instructions
Spray a frying pan with cooking spray. Lay down a tortilla.

Cut open your avocado(s), remove the pit, scoop out the flesh and spread all over the tortilla.

Next, layer on your ham. Feel free to also add any spices on this layer such as salt, pepper, red pepper flakes or garlic salt.

Add your cheese layer. Place tortilla on top.

Turn heat to medium-high. As cheese begins to melt, press top tortilla down. Once bottom is browned, flip the entire tortilla. Once that side is browned and cheese is melted, remove from pan and cut into quarters.

Serve with sour cream or salsa if desired.

Andrea can always be found with a new craft in front of her, a form of technology on her right and a coffee on her left. This is how she survives suburbia with her two crazy toddlers in tow.