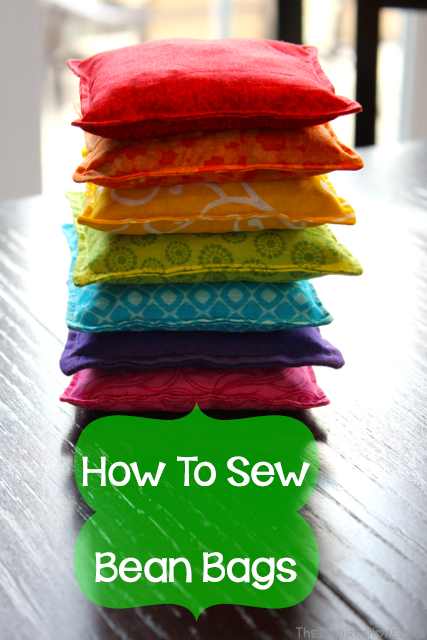 How To Sew Bean Bags for Kids
Bean bags are an excellent toy for babies, toddlers and big kids alike. They can be used in a variety of ways to learn a variety of skills. Plus they're just plain fun! Anyone can sew bean bags – they are the perfect project for beginners. Your kids will never notice if you can't sew in a straight line. It might seem like it would be very simple to sew bean bags. It most definitely is, but in this tutorial you will see a few little tips and tricks that I employed to make it easier. I learned the hard way when making my I-Spy Bags so I made a few changes for my bean bags!
Items Required
Fabric: Two 4.5″ x 4.5″ squares for each bean bag or one piece of fabric cut 4.5″ x 9″ (this is how I did it)
Thread
Glass-head pins
Iron
Stuffing: I used yellow split peas but you can use any sort of dried pea/bean, rice, or plastic pellets (these will allow you to wash the bean bags)
Funnel
How To Sew Bean Bags
Cut your fabric into 4.5″ x 4.5″ squares or a rectangle of 4.5″ x 9″. I made a rainbow of bags so I cut out 7 rectangles in total.
Take the time to iron your fabric – it will make things so much easier plus you barely need any pins. If you cut out rectangles, fold your fabric in half, wrong side out and iron a nice crease in the centre. If you have squares, line them up and pin together right sides together.
Sew all the way around your square leaving a 1-2″ opening where you will eventually flip the fabric right side out. Before flipping, be sure to cut the corners off to ensure a sharper corner once flipped. Make your cut as close to the stitches as possible.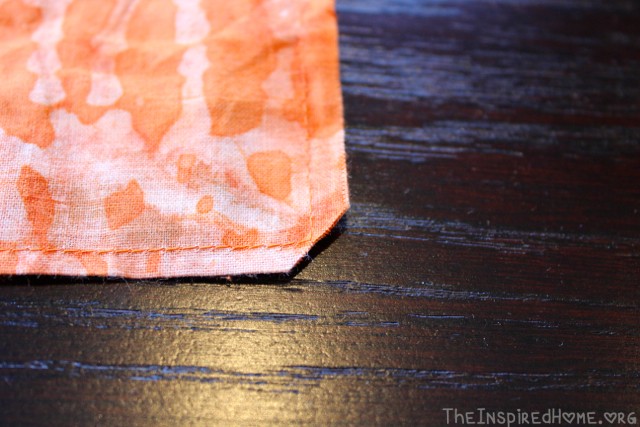 Flip your bags right side out. I like to use a chopstick to poke the corners out. Iron your fabric again ensuring you tuck in and line up the edge of the opening. Stitch around the outside of the bag with as small of a seam allowance as you can manage. Mine ended up being about 1/8″. Start at the edge of your opening and stop at the opposite edge. You want to leave the opening to fill the bag. The photo below shows how it should look at this point; the opening is at the top.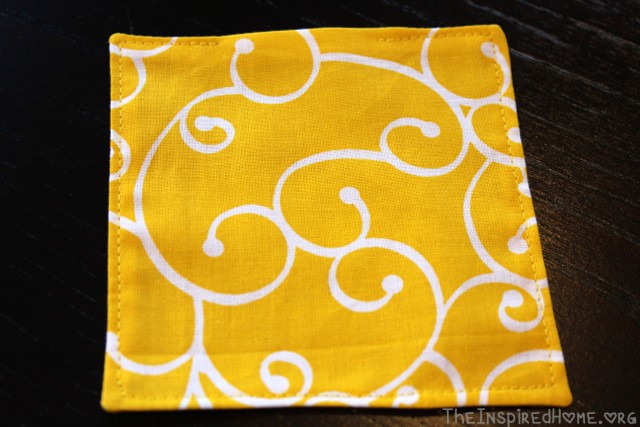 Fill your bag with 1/2 cup of your stuffing of choice. I highly recommend using a funnel to make your life easier. I used yellow split peas, mostly because Miss O was with me at the grocery store and she demanded the yellow ones on the shelf of dried beans. You can use beans, peas, lentils, rice or poly pellets. If you plan on making bean bags for a lot of kids to use such as in a classroom, I suggest the poly pellets as you will be able to wash the bags then. *Note: You will not be able to put them in the dryer! They will survive the washing machine but then let them air dry. If you wash ones with dried food in them, they will grow mould inside.
You will need to sew your opening closed which can be difficult with a bag full of beans. I pushed all of the beans to the bottom and placed a row of pins to hold them down while I stitched. You will need to really push them down as far as they will go and place the pins very close to them in order for your presser foot to clear the pins as you stitch the opening shut. I suggest going over your opening two or three times for extra security.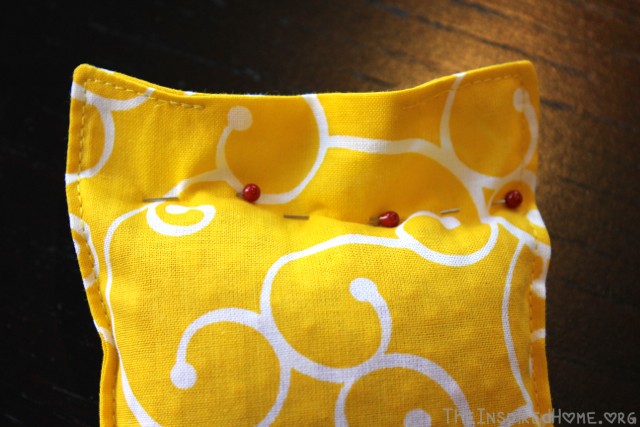 Voila! Your bean bags are complete. Miss O was very excited to play with them and even carts one or two of them around with her when we go out. Sometimes the homemade toy really is the one they love the best! Stay tuned for an upcoming post listing a variety of activities you can do with your fancy new bean bags.