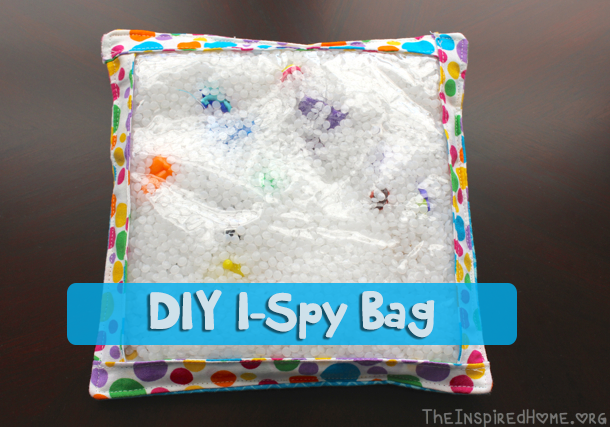 I-Spy bags are a simple gift you can sew for any child to enjoy. They are perfect for any occasion! Kids love to manipulate the bag to find all the fun little trinkets inside. These are a great use of scrap pieces of fabric as well. I added a pocket to the back of mine to include a visual guide to all the pieces that can be found inside. This isn't necessary – it's also fun for the kids to be surprised by what they find! Your baby, toddler and even big kid will enjoy playing with this fun toy.
Items Required
Fabric (details below)
Vinyl (details below)
Tissue Paper (details below)
Clips such as mini-clothespins
Poly pellets or rice
Trinkets (beads, buttons, miniatures, etc.)
How-To
First you will need to collect your trinkets. I used a variety of buttons, beads and various scrapbooking items – 30 in total. Once the bag was complete I realized it could have done with about 40 items instead. Once you have decided on your items, arrange them on a white background and take a photo of them. Print out a 4×6 photo of the trinkets to put in the back of the I-Spy bag.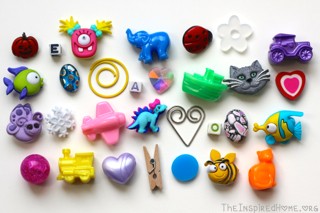 I used two different fabrics but it would looks just as nice using all the same fabric. For the back you will need three (3) 8×8″ squares: 2 in your main fabric, 1 for your pocket in contrasting fabric if using – this one will be folded in half. For the front you will need four (4) 8×2″ pieces – these will be folded in half. You will need 1 piece of 7×7″ vinyl.
Fold your front strips in half lengthwise and press them. Do the same with your pocket for the back. Attach your first front strip to the vinyl overlapping the vinyl by 1/2″ on the fabric. Lay a strip of tissue paper along the vinyl – this will keep the presser foot on your sewing machine from sticking as you are sewing. Use your clips to attach the fabric, vinyl and tissue together – using pins will puncture the vinyl which you want to avoid. Sew on your strip of fabric and repeat the steps for each piece, overlapping in a log cabin style.
Sew a straight line across your pocket piece about 1/2″ down from the folded edge. This will just make the pocket look sharp!
Lay your front piece right-side up. Next, line up the pocket on one edge of your front piece. Next, lay on a piece of the backing fabric, right-side down. Next, lay your last piece of backing fabric right-side up. Sew all the way around your square using about a 1/4″ seam allowance. Leave a 2″ hole to flip & fill.
Flip the bag right-side out. Start filling with your poly pellets. I used about 3 cups of pellets. Add your trinkets and mix them all in. Once complete, hand-stitch the hole closed, ensuring it is very secure! Tuck the photo of the items into the back pocket.
Voila! You just made an awesome I-Spy bag!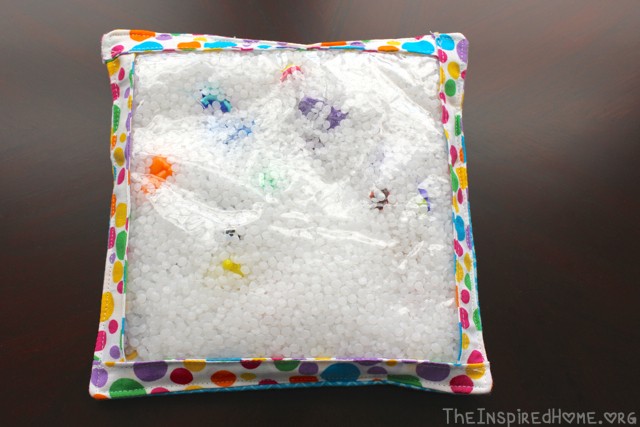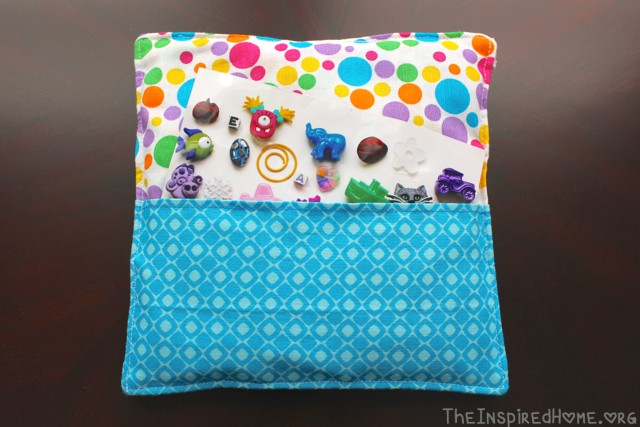 *Note: You may have noticed I sewed around the edge once complete. I did this to make it look very neat as well as to sew shut the hole left on the edge. I don't recommend doing this – the pellets were very difficult to keep away from the edge as I was sewing. It will still look just as stunning without this extra stitching!