Easy Turkey Pot Pie
Turkey has been the center of many family gatherings as long as I can remember. Each Thanksgiving and Christmas, my family would divide the dishes to bring a large spread together for the occasion. One of the inevitable conversations was always how many people were coming & how much turkey did we need. My grandpa always brought the turkey. I still don't know how he always seemed to pick the right size of bird, or if he just bought the biggest one. With a smile, during the week previous, he would drop off the large bird and take an opportunity to visit.
>> Try this Calculator to find out what size you need
Our turkey tradition was to always roast it in the oven. During the day, the house would fill up with the smell of turkey roasting. Our friends at Canadian Turkey have you covered with Whole Bird tips if you have turkey questions!)
After the turkey was consumed, dishes were passed, and reasons to be thankful were told, we would launch into action on the dishes. My dad always took a moment to put the Homemade Turkey Soup on to simmer. We would sit in the living area, and have delightful witty conversations about the topic of the moment with our relatives. The next day, we would launch into action once again with the leftover turkey.

Turkey Pot Pie and Feeding the Neighbourhood
My favourite recipe to make with the leftovers was Turkey Pot Pie. Turkey Pot Pie is a fabulous recipe because you can make it now and freeze it for later if you're already overwhelmed with turkey leftovers.
My mom used this leftover turkey as an opportunity to make tart pot pies and large pot pies. For the bachelors and older adults, she would drop off these turkey tarts for a delicious, nutritious meal for just them. For the pot pies, we would put them in our deep freezer to save for a night where we needed a quick meal. Add a salad and it was quickly warmed through in about 20 minutes in the oven at 350 degrees.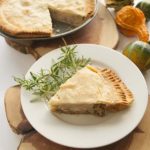 Easy Turkey Pot Pie
A make-ahead pot pie that you can freeze for later with your leftover turkey.
Ingredients
2

boxes of refrigerator pie crust

1

cup

of mini potatoes or potatoes

sliced into 1/4" chunks

1

cup

of celery

diced

1

cup

of carrot

diced

1

medium onion

1/2

cup

of turkey gravy

2

cups

of turkey meat

Salt and pepper
Instructions
Roll out pie crust bottom in 2 pie pans.

Spread 2 TBSP of turkey gravy on bottom of pie with large tablespoon.

Add filling of celery, carrot, turkey, potato, onion. Cover with rest of turkey gravy.

Salt and pepper to taste.

Roll out top of pie crust on to pie pan.

Wet fork and crimp around edges. Trim pie dough if needed. Add vent holes in middle.

Bake at 450 degrees for 20-30 minutes or until edges are golden brown
Recipe Notes
If you plan to freeze pie crust and reheat in oven, bake the pie for just 20 minutes.
What do you do with your turkey leftovers?
For more great recipes, follow Canadian Turkey Farmers on Facebook, Instagram, Twitter or Pinterest.
More Recipes Featuring Leftover Turkey:


Turkey Sweet Potato Green Bean Soup
Sushi Inspired Thanksgiving Turkey Rolls
Although this post has been generously sponsored by Canadian Turkey, the opinions, language and yummy photos are my own.

a passionate recreation coordinator by day, crazy farm mama of two by night. i live outdoors: growing my own food, camping and hiking with my border collie with two active kids in tow. when I'm not writing, I'm experimenting with recipes, and crafts – or anything else that might keep the monkeys entertained.