Please welcome Elena, one of our guest authors here at The Inspired Home!

Sugar Cookies: 2 Ways
The vast majority of the festive treats and foods we enjoy at my house are all my maternal grandmother's recipes. She was a fantastic cook. Not in the simple sense that she could pull a meal together if need be. I mean, staggering, beautiful foods that up until recently were not really valued. She used to make my mom and her siblings fresh donuts when they came home from school, just because she could.
Not this recipe though. My amazing mother has made these sugar cookies every year since I was about 4 or 5. These are a PURE Sterling tradition.
There is always a fierce competition between my sisters and I to make the best sugar cookie. In high school, each year we included our friends in the decoration – and often someone was yelled at for icing a bell yellow instead of blue. Traditions in my family were very strict. Now with the addition of 3 husbands for 3 sisters, the tradition of decorating has evolved and is a little more silly.
I hope you try these sugar cookies – they are soft and delicious. Although not a challenging cookie to make, the labour in rolling out, cutting, baking and decorating all the sugar cookies is not for the lazy person. We have always used good old store bought icing for decorating. Easy to make and very tasty. Food colouring is used to make additional colours.
As I have recently removed gluten from my diet, I use Cup 4 Cup (from Cloud 9 Specialty Bakery, can be found at Costco) in place of standard flour. This is my go to flour replacement as it acts the same as flour without the usual gluten-free taste.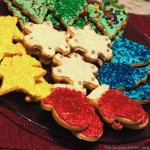 Sugar Cookies
A secret family recipe for delicious soft chewy sugar cookies that can easily be adapted to be gluten-free.
Ingredients
3 1/4

cups

flour

1

tsp

baking soda

1/2

tsp

salt

1/2

cup

margarine

1

cup

sugar

1

egg

1 1/2

tsp

vanilla

1/2

cup

sour cream
Instructions
Beat the margarine, sugar, eggs and vanilla until smooth.

Mix flour, salt, and baking soda together.

Add half of the flour mixture to the margarine/sugar mix and combine.

Next, add half of the sour cream and mix well.

Repeat steps 3 and 4 until all ingredients are combined.

Pour out on to a counter and hand mix to create a ball.

Refrigerate 30 minutes or up to a week if you only want to bake a few at a time.

Preheat oven to 400°F.

Roll out about to about 5cm thickness on floured surface.

Use floured cookie cutters to cut cookies.

Bake on greased sheet for about 8-9 minutes.

Allow cookies to cook completely before icing.
Recipe Notes
Flour can be replaced with Cup 4 Cup gluten-free flour to make a gluten-free cookie. Use equal amounts of Cup 4 Cup.