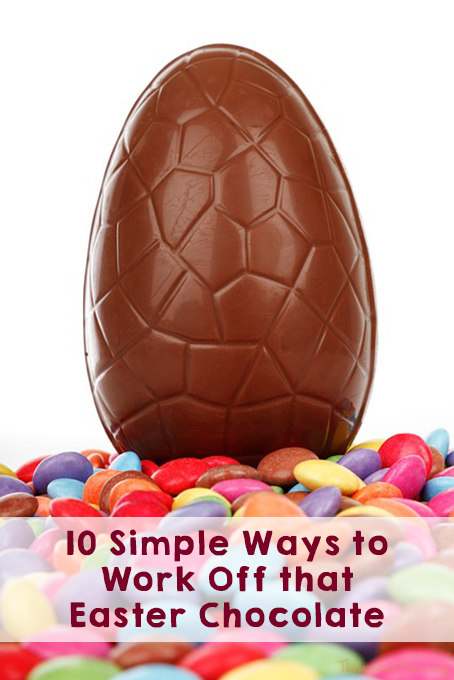 Easter has come and gone and now you've got your kids' stash of chocolate to sneak after they go to bed. I've personally got a penchant for anything containing peanut butter. My daughter is still young enough that she doesn't know to take stock of her chocolate and hide it from her mother. I can ration it with little argument. This is a bad thing as I can eat just about as much of her chocolate as I want without her even realizing it. So I've got to find ways to keep all of that Easter chocolate from spending a lifetime on my hips.
Here's a few simple ways to work off those calories in this rainy spring weather. Some of them are even fun!
Jump in the puddles! Slip on some splash pants, get everyone into their rain boots and go outside to have some fun. You won't even realize you're working off that giant Lindt bunny you've been snacking on.
Spring cleaning. It's not always exciting but you can make a game of it and get the kids in on the "fun". Bonus points for dancing while cleaning. Even more bonus points for doing squats while cleaning the toilets.
Hit the gym on those chilly days. I like to sneak off to my local GoodLife Fitness once the kids are in bed and hubby is parked in front of his computer. Try a new fitness class or just do some cardio, whatever suits your mood!
Play some video games with the kids. Not the kind where you sit around with a controller in your hand. Get up and move! Play some active games on the Nintendo Wii or other similar system. Your kids will love that mom is joining in on the fun.
Try geocaching. Holly is a big advocate for getting outdoors with the whole family. She's done a number of posts on geocaching if you'd like to learn more. Even if you stick with the simpler ones, you're still being active and you won't even realize it.
Play hide & seek. You'll have to move quick if you want to hide before your kids sneak a peak. Don't limit the game to just one floor of the house; by using the whole house, you'll have to get up or down those stairs quickly!
Go for a walk after dinner with the family. The weather is warming up and the buds are starting to show. See how many robins you can spot. Play a round of I-Spy. A long walk around the neighbourhood will gear the kids up for sleep and make up for that Reese egg you ate during nap time.
Make the effort to eat healthy meals. Cheating with chocolate doesn't feel as sinful when you've had 3 proper meals throughout the day. Don't just eat the crusts & crumbs from your child's lunch. Take a few minutes to make yourself a salad with some fruit, nuts and cheese and a light dressing. You know it will taste better than floor Cheerios.
Go shopping. And do it when you can take your time and with no purpose in mind. Wandering through all of the stores that you like to peruse will burn more calories than you think!
If it can be done while walking or standing then do it! Have your morning coffee while standing at the kitchen counter. Throw in a few squats for good measure. Or alternate standing on each foot. In the mood for a round or five of Candy Crush? You can pace the floors while playing.
This post was written as part of the GoodLife Fitness Blogger Ambassador Program; however, all opinions expressed are my own.

Looking for more great crafts, activities, and foods to celebrate Easter? Check these out.
Have you seen our Easter Mantel Decor? Become inspired now.