10
Chicken Tortilla Soup
The weather is warm enough that I want to be eating light, fresh, spring inspired foods. But it's freezing out there today. This soup is the perfect
compromise. It's light and fresh, has lots of healthy goodness and it will warm up the whole family after a day out in the frosty spring air.
As a timesaver, I use store bought rotisserie chicken rather than cooking my own, so this soup comes together in about 30 min – which makes it a perfect weeknight choice. Also, it is amazing the second day too, so don't be shy about making a double batch.
I do make my own tortilla strips. I find they get a soft, more authentic consistency as they soak up the soup in the bowl and they look amazing when
you serve it up, but using tortilla chips works just fine. Plus, you can use them to scoop up anything left at the bottom of the bowl.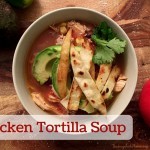 Chicken Tortilla Soup
A quick 30 minute fresh soup that is perfect for dinner.
Ingredients
1

tablespoon

olive oil + extra if you want to make your own tortilla chips

4

garlic cloves

minced

1

teaspoon

chili powder

2

cans diced tomatoes in juice

14.5 ounces each

2

cans black beans

15 ounces each, rinsed and drained

2

cups

reduced-sodium chicken broth

1

cup

water

1

cup

corn kernels/ frozen

canned or fresh

Coarse salt and ground pepper

1 ½

cups

shredded chicken

5-6

soft four or corn tortillas or 1 cup tortilla chips

1

tablespoon

fresh lime juice

plus lime wedges for serving

Ripe avocado

fresh cilantro, grated cheese and/or sour cream for toppings
Instructions
In a large saucepan, heat oil over medium. Cook garlic and chili powder until fragrant, about 1 minute. Add tomatoes (with juice), beans, broth, corn, and 1 cup water; season with salt and pepper.

Bring soup to a boil; reduce to a simmer.

Add shredded chicken.

Cook for about 5 more minutes.

Remove from heat; stir in lime juice, and season with salt and pepper.

Coarsely crunch some tortilla chips to add to each bowl or make your own crispy tortilla strips. (see below)

Serve soup topped with your choice of avocado, fresh cilantro, cheese, sour cream, extra chips, lime wedges or all of the above.
Recipe Notes
TIP: If you want to make your own tortilla strips, slice fresh tortillas into narrow strips (about 1 cm wide) with a pizza cutter. Add about ½ tablespoon of olive oil to a pan and heat over medium. Fry the strips in batches, adding more oil as necessary. Flip frequently to avoid burning (some dark patches are ok) until crisp. Season with coarse sea salt.

Melanie from mommydo.com writes about parenting, food, neat stuff and the unexpected beauty in life, all while juggling work, family life and spreading awareness and raising funds for Williams Syndrome.