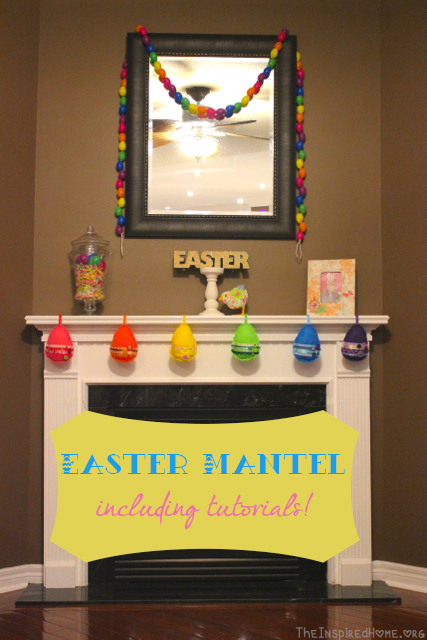 With each new holiday and/or season comes a freshly decorated mantel in my home! The mantel was rather barren between Christmas & Easter. Hubby requested a break from the bright, busy mantels. I personally love a decorated mantel but hubby has to look at it too so I honoured his request. I was excited for the beginning of April so I could officially decorate it again! I used a number of items from around my home (I'm sure you recognize the apothecary jar by now!) as well as purchased a few new items. I've never had an Easter mantel before so it was fun to find some new items.
I added a few handmade touches to this mantel. You will find tutorials below for the two garlands you see on the mantel: the plastic eggs strung around the mirror and the decorated felt eggs hung below. Unlike Holly and her green thumb, I'm not capable of maintaining real flowers in my home, otherwise I would have included them on my mantel. If you would love to add some real flowers such as daffodils to your Easter mantel, check out her 5-Minute Easter Centerpiece.
Easter Mantel Decor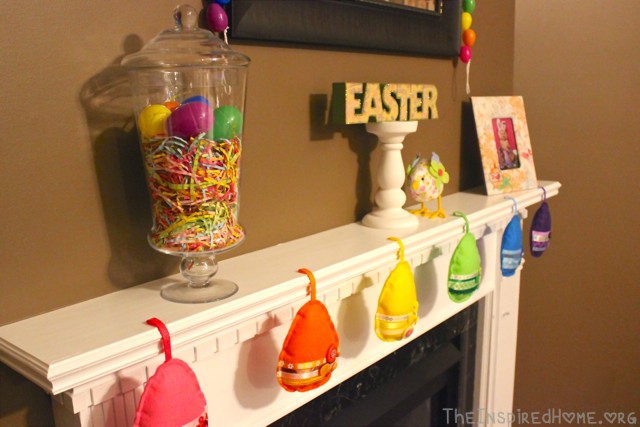 Items Included
Plastic Easter Egg Garland (click for tutorial)
Felt Easter Egg Garland (click for tutorial)
Apothecary jar with basket grass & plastic eggs (multicoloured grass from Target)
White candle holder with Easter sign (sign from HomeSense)
Little stuffed birdie (from Michaels)
Fabric picture frame (from HomeSense)
Did you decorate your mantel or other area of your home for Easter? Perhaps you prefer to decorate for Spring so you can keep the decorations up longer! Let us know in the comments below. And be sure to check out our Easter Pinterest Board for even more excellent mantel decorating ideas.
Follow The Inspired Home's board Easter on Pinterest.

Looking for more great crafts, activities, and foods to celebrate Easter? Check these out.
For a sweet treat this Easter, why not give our Easter Dipped Marshmallows a try!