5-Minute Simple Easter Centerpiece
Spring really brings out my green thumb! I love decorating around Easter because of all the spring flowers with strong scents and bright colourful faces. Watching them pop up in my garden in the sun drenched yet still chilly air excites me! It means the new growing season is here, and it's time to get growing my favourite vegetables and messing around in the dirt. It's the best kind of therapy for an outdoor gal like me.
I wanted to bring a little piece of that cheer into our Easter celebrations and to a few of our friends. At our local thrift store, I found a few cute little pots that I knew would be just right for this project. They were really inexpensive, in fact the entire project cost me less than a nice bouquet of flowers from the grocery store.

Where possible, the gardener in me tries to give a plant as opposed to cut flowers. I like that it is living and with a little love (and water), you will get beautiful blooms. In a few weeks, you could even plant it outside and watch it come up again year after year. In fact, I know several of my fellow gardeners who have much-loved plants that originally came from a little supermarket plant or floral gift.
Originally I wanted to force the bulbs I'm using for this, but unfortunately I could not find any bulbs locally that would work. I should have saved a few bulbs from splitting my tulips last spring, but sadly, I generously put them all back into the ground with hopes of more tulips popping up outside! If you're interested in learning more about forcing, check out the tutorial over at Satori Design for Living.
I found a riot of colour happening at my local big box retailer, so I carefully searched for plants that had no flowers blooming or very few. Retailers always put the least expensive items on the bottom. In this case, the flowers on the bottom weren't getting as much light either – so they weren't blossoming yet either. All in all, a huge win for me.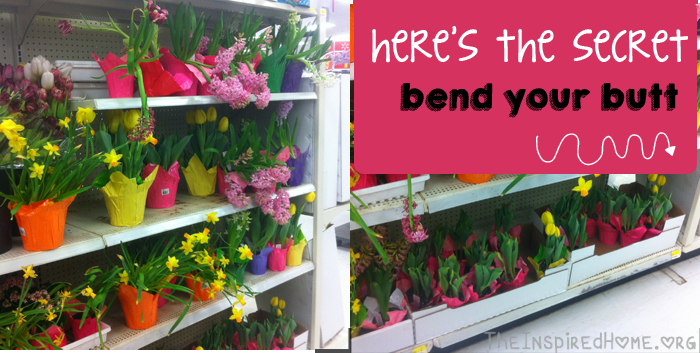 Items Needed:
A few cute containers
Diapers (optional)
Potting soil
Spring bulbs or pre-grown bulbs
Instructions:
Cut the tabs off the diaper so you're only left with the middle section. Put middle section in bottom of the pot. This will help keep the plant moist, which is especially important in more shallow containers.
Gently grasp bulbs right where the stem meets dirt & tug out. Separate each bulb out gently (mine had three in each) and place approximately where you want them to go in the pot.
Cover with dirt.
Water until soil is moist – don't worry if too much, the diaper will help you out with that one.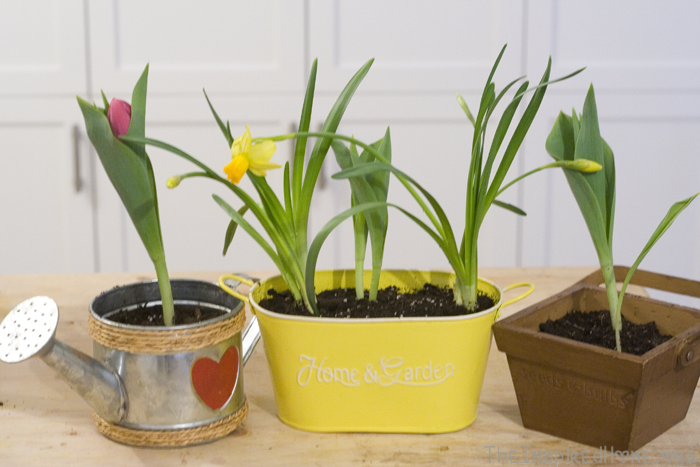 We're happy to share more Easter goodness with you on our Pinterest, so hop on over!
Follow The Inspired Home's board Easter on Pinterest.

Looking for more great crafts, activities, and foods to celebrate Easter? Check these out.
If you are in need of some inspiration for your mantel this season, Easter Mantel Decor is for you.