Simple Veggie Dip Cups
Each month, I get the preschool newsletter. Inevitably, there is a party. Each time, slips are placed on the table asking parents to bring in a food item to contribute. My husband (the designated preschool drop-off and pick-up guy) always chooses a suitable option. He brings it home and places it on the fridge as a reminder.
That's where I lose my head a little. It's one of those moments where I totally hate Pinterest. I go looking for some cute or brilliant little way to morph my veggie tray, plate of sandwiches or fruit into a cute, kid friendly design. I struggle to make it with my child, and make it look good.
I don't know why I feel this innate competition over preschool party food. I also want to admit to you, I don't have it all together. I make these small offerings the night before.
For the sake of all of our sanity, let's get off Pinterest on this one. Let's make easy, wholesome preschool snacks instead. So here you go, my latest version of vegetable tray for preschool: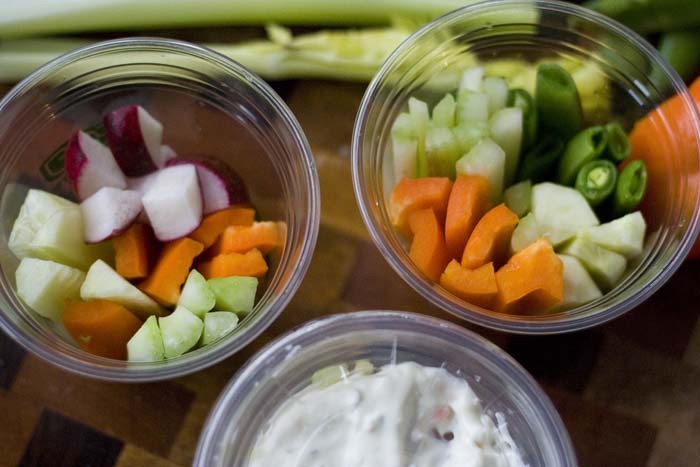 I am not even going to make a recipe card for this. Cut your favourite vegetables into sticks or chunks, load up the cups, add insert & spoon 1 tsp of dip in. Ta-dah! That's it.
I make 12 cups which I put in a muffin tin to transport to school. The cups, lids, and inserts are from my friends over at Green Munch. Not only do they make it look good, they also are compostable. I used the 9 oz version which was perfect for kids. If you're using this idea for adults, I recommend the larger 12 oz cup.
The kids can pick these up by themselves easily, and you can put a variety of vegetable sticks in them to help them eat a rainbow. If any are leftover, they keep up to 3 days in the fridge. Put them on a low shelf and encourage your kids to snack on them. We have been making them for easy snacks for work & anytime for the last week.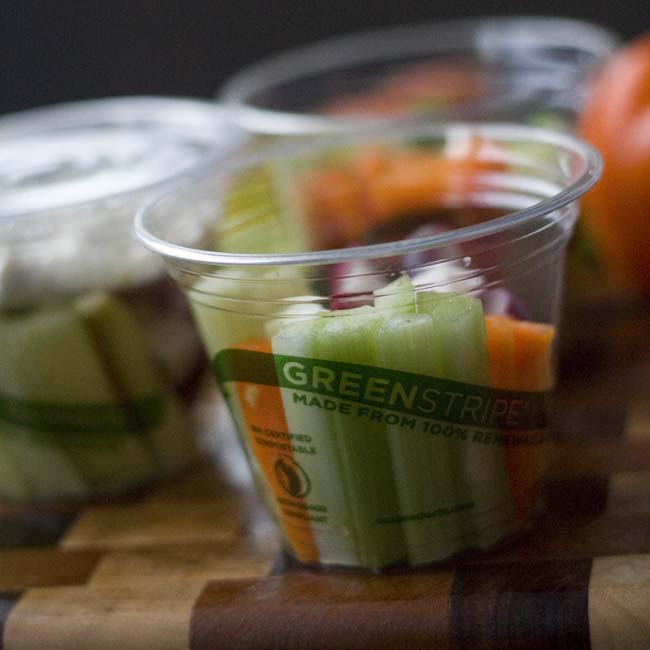 Don't limit their use to just preschool parties either – these would be awesome for your next social gathering! Make up a little tower of veggie dip cups to serve. Your guests will be drawn to the pretty veggie colours, and will be able to take one in their hands to eat while they mingle.
When the party is over, throw them into your Green Bin and they will be composted. Although not recommended, I have throw a few in my backyard composter and over time they do break down.
What's your favourite healthy party snack?
This post in no way was sponsored. Green Munch has impressed me with their friendly customer service and outstanding products. Don't hesitate to buy your next eco-friendly party supplies from them, I've ordered 5-6 times from them and recommend them highly.