Peanut Butter Blossoms
For me, there is something irritable about peanut butter cookies of any kind, but especially these Peanut Butter Blossoms. Perhaps it's my absolute love of peanut butter and its creamy deliciousness. Or the fact that they are such a simple cookie to make from scratch.
We bake frequently in my house, and my 3 year old Allie just loves to help. She is so curious about the measuring and mixing, and how it all comes together. While she doesn't quite understand the waiting-game we play afterwards while our baked goods are cooling, I usually find having her help to wash dishes is a good way to pass the time.
Spreading The Love
Just recently we made peanut butter cookies for the first time, and Allie fell in love with them. This did  not surprise me one bit, given that she shares my love of peanut butter. She often asks for a spoon of PB as a snack in the evenings.
This recipe for Peanut Butter Blossoms had Allie pretty excited from the get-go, since there is a photo opposite to the recipe in the cookbook. When she saw the chocolates in the photo, she could hardly wait for me to get them out of the cupboard, mainly so that she could sneak one or two when I wasn't looking.

Tips & Tricks
First of all, I like to chill my dough for a little while before rolling into balls, they hold their shape better and don't get so sticky. I find 10-15 minutes does the trick.
These cookies tend to be done at the 8 minute mark for me (my oven runs hot), I watch the bottom edge, and as soon as it starts showing a brown line against the pan they are done.
Finally, freezing … given the chocolates coming out of the top, they are a bit precarious to later for freezing but it can be done and they come out of the freezer great.

So if you do freeze them, when it comes times to thaw, I recommend moving them out of the container to a cooling rack so the chocolates keep their shape better
Bake & Enjoy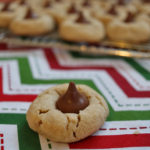 Peanut Butter Blossoms
Ingredients
1/2

cup

shortening

3/4

cup

creamy peanut butter

1/3

cup

granulated sugar

1/3

cup

brown sugar

1

egg

2

tbsp

milk

1

tsp

vanilla extract

1 1/2

cups

all-purpose flour

1

tsp

baking soda

1/2

tsp

salt

Granulated sugar

for rolling

Hershey's Kisses
Instructions
Prep
Heat oven to 375F

Unwrap chocolates and set aside
Dough
Beat together shortening and peanut butter, on medium speed until well blended

Add in both sugars, beat until fluffy

Add in egg, milk, and vanilla, beat well

Stir together flour, baking soda, and salt; gradually beat into wet mixture
Cookies
Shape dough into 1" balls

Roll in granulated sugar, place on uncreased baking sheet

Bake 8-10 minutes or until lightly browned

Immediately press 1 chocolate into the centre of each cookie (while still on pan), edges will crack

Move them to wire rack to cool

I am a busy mom to 3 kids, so my days are typically filled with tea parties & story books, singing & dancing, crafts (for as long as a 3yo's attention span will allow) & cuddles. All the while trying to keep up with laundry & cleaning & meals (we have PB&J sandwiches for dinner more often than I'll ever admit). The days (& weeks, & months) seem to speed past so I try to soak up as much as I can each day.