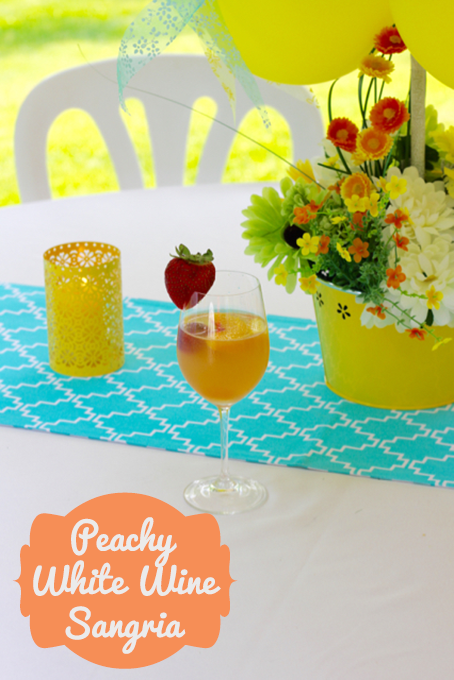 Nothing says summer like a glass of sangria.
I'm a big fan of white sangria, mostly because I don't particularly like red wine. I also find it so refreshing! Adding peaches to it just makes it feel like the perfect summer drink.
My recipe is always requested at parties. It's easy to make and I usually have what I need on-hand (aside from the 5 bottles of wine but that's just a quick trip to the liquor store!). Another perk to white sangria is that you don't have to make it ahead of time…but you can! Red wine sangria usually tastes best if you make it the night before but white sangria can be made just before the guests arrive. Yet it's also still fantastic when it's been sitting for a few hours. The only thing of note is that you may want to keep it chilled in the fridge. Red tastes good at room temperature but white is best served cold.
This is a large recipe designed for a party. The good news is that it keeps very well – I managed to have a lot left over after a recent party and I was drinking it for almost a week!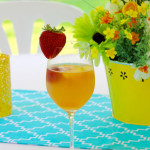 Peachy White Wine Sangria
A great summer drink to serve to a crowd.
Ingredients
4

bottles of Pinot Grigio - simply use your favourite brand

1

bottle of wine beverage - I like a sweet tropical one like Girl's Night Out Tropical Tango

Peach Schnapps

Raspberry Sourpuss

2

L

bottle of Sprite or other lemon-lime pop

1

L

of tropical juice - I use Oasis Tropical Passion

960mL

Frozen fruit - I buy a blend that contains peaches

strawberries, pineapple and mango
Instructions
In a large drink dispenser, pour in the 5 bottles of wine.

Next, add a healthy splash of both peach schnapps and a bit less of Sourpuss - it's nothing exact but probably about a cup of schnapps and a bit less of Sourpuss.

Add the juice.

If preparing ahead of time, add the Sprite shortly before serving.

Put some of the frozen fruit in right away to let it soak up the wine. Save the remainder for when you serve it to help keep it cold.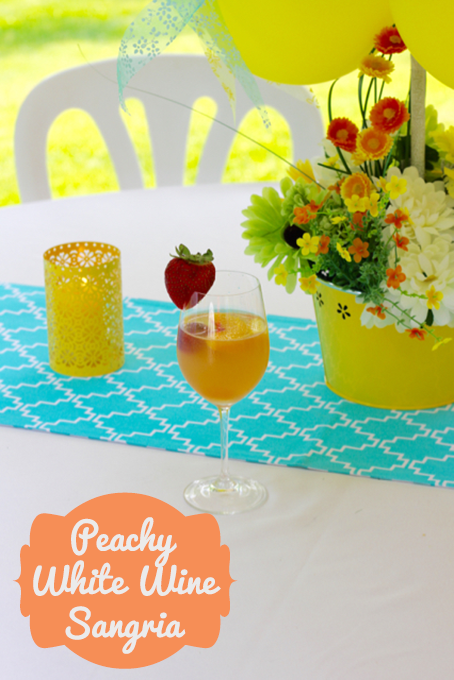 Andrea can always be found with a new craft in front of her, a form of technology on her right and a coffee on her left. This is how she survives suburbia with her two crazy toddlers in tow.