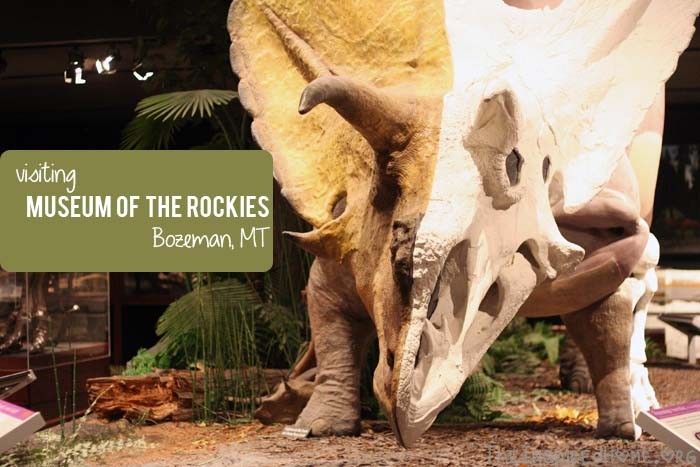 Visiting the Museum of the Rockies in Bozeman, MT
Location: Bozeman, Montana http://www.museumoftherockies.org/
Address: 600 West Kagy Blvd
Cost: $14 adult, $9.50 kids 5-17 yrs, FREE for kids under 4 years
RV Friendly?: Much parking is available and the layout is very conducive to RV parking.
Stroller Friendly?: Yes. Elevator available in Museum to reach upper floors.
Estimated Stay Length: 2-4 hours minimum, longer if you want to play more!
Worth the Trip?: Yes – largest dinosaur fossils in the world, interactive playcentres for kids in each hall and the Martin's Children's Discovery Centre are great reasons to visit.

We had the opportunity to visit the Museum of the Rockies in Bozeman, MT on our recent trip! We visited on our way through from Alberta to Ontario via the Northern States.
The Museum of the Rockies houses a vast area of items from dinosaur bones, regional treasures, and aboriginal culture artifacts. What my family really appreciated was the attention to detail to make the museum a friendly place for little visitors. Each of the different exhibits had a themed play centre that allowed children to play with figurines, puzzles and other educational toys. It allowed the history buff, my husband, to dive into each area and read and interact with each exhibit.
MOR is home to a large collection of dinosaurs, and the most T-Rex specimens in the world – more than 13. Dr. Jack Horner who has found many of the specimens within the hall has an impressive resume. How neat is it that you can watch scientists painstakingly cleaning and cataloguing fossils right within the Siebel Dinosaur Complex?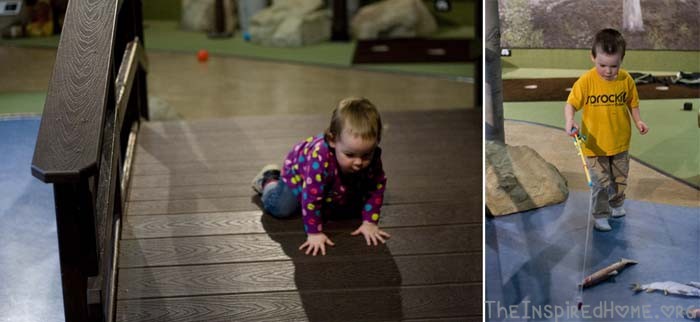 Nothing prepared us for the power of the Martin's Children's Discovery Centre on the third floor. Picture two kids who have been in the car for several days that are now invited into a room full of colour, texture and many places to play. And play, they did.
The Discovery Centre is a cumulation of brilliance that allows you to explore hands-on Yellowstone National Park. Each piece of it from the fire tower, to the fishing bridge, to the camping is a superb example of learning through play.

The Living History Farm outside is an additional treat, open in spring, summer & fall. Costumed interpreters show you what life was like in the 1890's. Our family enjoyed apple picking and using a old-fashioned cider press. Their heirloom gardens are plentiful, chicken coops are full and blacksmith is busy.
Have you visited the Museum of the Rockies?