It's that time again! Time for Back To School. For many parents, it's the first time you'll be sending your first-born off to school. Miss O starts Junior Kindergarten this year. Where I live, the kids have JK and SK (Senior Kindergarten) and they start school at age 4. Now, for Miss O, school isn't a big deal. When she was two, I started her one morning per week at a local preschool. Once she turned 3, I had her in another school for 3 mornings per week. After Christmas break, we decided she was ready to turn two of those days into full days. She loved it! So heading to kindergarten isn't daunting to her. But for many kids, they will be heading to school for the very first time.
Miss O has always taken to books. She loves being read to and has learned many things from books. One that sticks in my mind is a book about getting rid of her soother. After a few short weeks of reading this to her most nights, she woke up one morning and tossed it in the garbage! Since that moment, I have tried to find books that talk about any hurdle she is trying to overcome. With kindergarten approaching, I thought it might be time to visit the library once again and take out some books on that very topic. Here are 11 books that all came from the library that would help any child prepare for that first day of big-kid school!

11 Books to Read to Your Kids About Starting Kindergarten
Kindergarten Rocks! by Katie Davis
In Kindergarten Rocks!

, Dexter has a big sister who tells him all about what to expect at school. He asks a lot of questions! His sister tells him to take his favourite stuffy with him in case he has any questions, worries or concerns. Eventually, Dexter is having so much fun, he misplaces his stuffed dog, Rufus. But he has a lot of fun at school! The siblings ride a bus in this book so be sure to read this one to a child who will be riding the bus with their big brother or sister.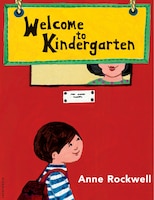 Welcome to Kindergarten by Anne Rockwell
Welcome To Kindergarten

really lays out what a day at kindergarten will be like. The words are simple and explain clearly the different things that can be done at school. If your child prefers realistic stories to fairy tales, this is the book for them.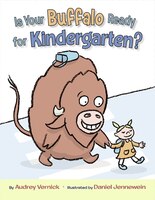 Is Your Buffalo Ready for Kindergarten by Audrey Vernick
For the child who is concerned about being different from others, Is Your Buffalo Ready for Kindergarten?

is a good choice. The buffalo is very different from the kids in the class but he, along with the children, learn that everyone has their place. This is an ideal book for a nervous child.
The Pocket Mommy by Rachel Eugster
If your child is attached to your hip at home, The Pocket Mommy

is the book for them. Samuel is nervous so he has a little "pocket mommy" he takes to school with him. She causes nothing but trouble while trying to help him out. Eventually he learns that he doesn't need his mom to get through the day at school. This is one of the longer stories in this collection of books. It's best suited for a child with a good attention span.
Mom, It's My First Day of Kindergarten! by Hyewon Yum
Mom, It's My First Day of Kindergarten!

is all about a mom who is so worried about her son's first day of school. The son is the one who is excited while mom is a little sad, blue character. Eventually the mother and son switch roles and he becomes nervous about entering the classroom. A wonderful little tale for the child who may talk a big game but tends to get shy and nervous when the big opportunity presents itself.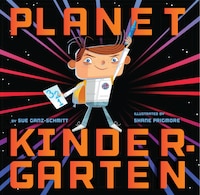 Planet Kindergarten by Sue Ganz-Schmitt
Do you have a little one who loves outer space and has a big imagination? Then Planet Kindergarten

is for them! It has aliens and space food and rockets. It's a very different spin on the first day of kindergarten. This book is best suited for a child who is not overly worried about starting school but may have some questions.
Polka-Dot Fixes Kindergarten by Catherine Urdahl
Polka-Dot is a little girl who has spent majority of time with her grandpa growing up. He taught her many funny ways to fix things. The premise of Polka-dot Fixes Kindergarten

is about being different and another girl who likes to point out these differences to her. In the end, Polka-Dot ends up helping the girl and they become friends. This book would be ideal for a child who has gotten off on the wrong foot with a fellow student when they first start school.
Monkey: Not Ready for Kindergarten by Marc Brown
A little boy monkey is the star of this story. Monkey: Not Ready For Kindergarten

looks like it is drawn and written with pencil crayons by a child which adds a bit of fun to the story. Monkey has a lot of worries that get addressed. His parents and big brother help him work though his troubles and give him ways to cope. A wonderful read for any kindergartener!
I Love School! by Philemon Sturges
If your child will be riding a bus, I Love School!

is a great choice. While very little of the story is spent discussing the bus ride, it may not make as much sense to a child who will be walked or driven by their parents to school. The book is very simple language, large text and basic, bright pictures. As with most books for this age, the story contains a lot of rhyming.
The Night Before Kindergarten by Natasha Wing
Written in the same style as 'Twas the Night Before Christmas," you little one might recognize the lilt of the story. In The Night Before Kindergarten

, the rhymes are altered to reflect what it will be like at the first day of school. The focus at the end of the story is on the parents and how sad they are to see their children go off to the first day at school.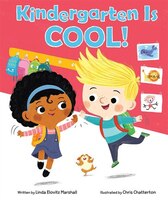 Kindergarten is Cool! by Linda E. Marshall
Kindergarten is Cool!

is a cute book full of vibrant images that will be sure to grasp your little one's attention. It's a quick read with plenty of rhymes. It covers the basics quickly and simply about the things that will happen during the school day. It also features a few pages about making new friends.

Be sure to visit your local library and check out their selection. To make your life even simpler, you can most likely peruse the library collection online and put a hold on them. Once they're ready for pick-up, you can pop in and grab them all in one fell swoop! However, library time is always a fun time for my kids. We like to visit and check out all of the books, play with the toys and have some fun – bonus: it's FREE! It's a great way to spend a rainy summer day before the kids head off to school. If you're looking for advice for surviving your child's first day of school, Holly has prepared the Real Mom Survival Tips! We've also got some tips for staying healthy during the school year.


Andrea can always be found with a new craft in front of her, a form of technology on her right and a coffee on her left. This is how she survives suburbia with her two crazy toddlers in tow.