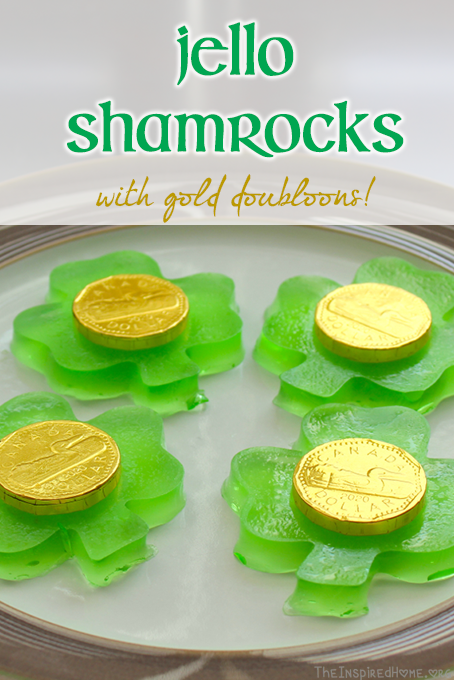 Jiggly Jello Shamrocks
Miss O has never been a huge fan of jello so I thought I would try something fun to get her interested. I got my hands on some sour apple Jolly Rancher gelatin and thought it would be perfect to make some shamrocks for St. Patrick's Day complete with gold doubloons!
What You'll Need
2 packages of green Jello or similar brand
Shamrock cookie cutter
Gold foil-wrapped chocolate coins
Cooking spray
9×13″ pan
2 cups boiling water
How To Make Jello Shamrocks
While your water is boiling, use the cooking spray to lightly coat the pan – this will help release the gelatin shapes much easier. Empty your two boxes of gelatin powder in the pan and pour in 2 cups of boiling water. Stir until all powder is dissolved. Place pan in the refrigerator.
Once the jello has set (about an hour or two), use your cookie cutter to make the shamrocks. I found it easiest to pull away some of the gelatin around the cookie cutter first before removing the shamrock. A small spatula will be very helpful in removing the shape from the pan. Put on a plate and place a gold coin on top. Voila – dessert!

Looking for more great ideas on crafts, activities and food to celebrate St. Patricks Day: check these out.
Looking for a fun DIY St Patrick's Day decor idea? Try Washi Tape Shamrock Art.