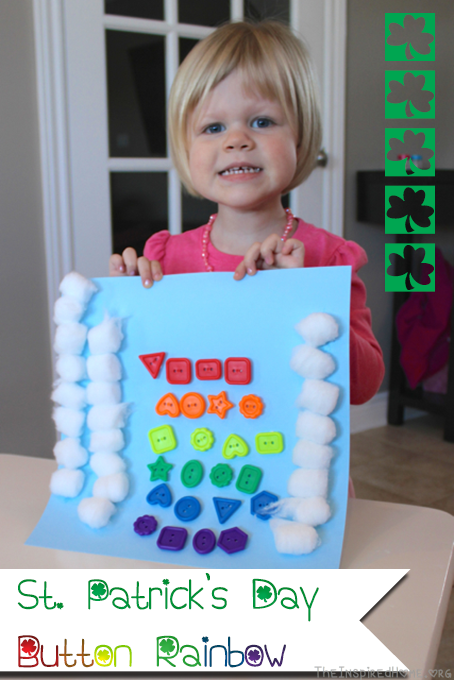 St Patricks Day Rainbow with Buttons
"Do you want to do a craft?"
This phrase is enough to make Miss O drop whatever she is doing and start jumping for joy. Just like her mama, she will try any craft at least once. Nine times out of ten, she wants to do it again. And again. She will sit forever just colouring, gluing, adding stickers or doing just about anything that is encompassed in the word 'craft'.
Buttons.
She loves buttons.
So I came up with a fun rainbow craft for her to make for St. Patrick's day that involved buttons in a rainbow of colours.
What You'll Need to Make a St Patricks Day Rainbow
1 piece of blue paper (I used 12×12 cardstock)
buttons in all the colours of the rainbow
cotton balls
adhesive of choice for buttons (I use double-sided foam stickers – less mess, more fun than glue)
glue stick for the cotton balls (I like the glue that goes on one colour but dries clear – they can see what they are doing much better)
This craft had a lot of great learning tools. I have a big bag of buttons from Walmart. They come in all the colours of the rainbow and they are all different shapes. Miss O will jump at any chance to use these buttons. Mostly she sorts them because, well, that's what she does.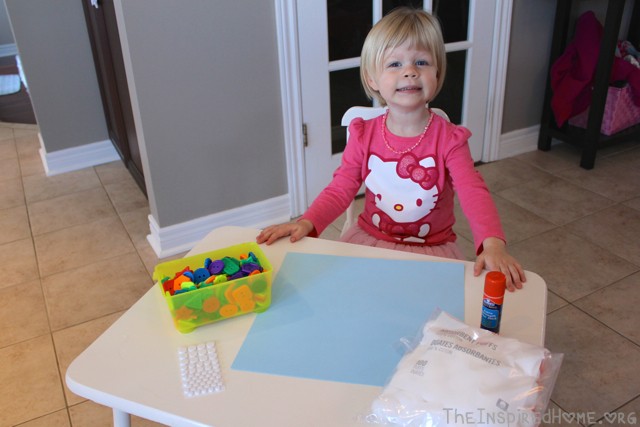 What She Learned
First we had to count our buttons. We used 4 buttons in each colour.
Next we had to identify our colours: 4 red ones, 4 orange ones, etc.
From here we discussed the shapes of each button: circle, square, rectangle, oval, hexagon, etc.
Fine motor skills both from attaching the foam stickers to the back as well as placing each row of buttons in a line
Miss O has an appreciation for perfection. Her lines of buttons were pretty close to perfect. Once it came time to attach the cotton balls for our clouds, she ran the glue stick in a straight line down the page and placed each cotton ball carefully down the page. I encouraged her to make some crazy clouds but she knows what she wants!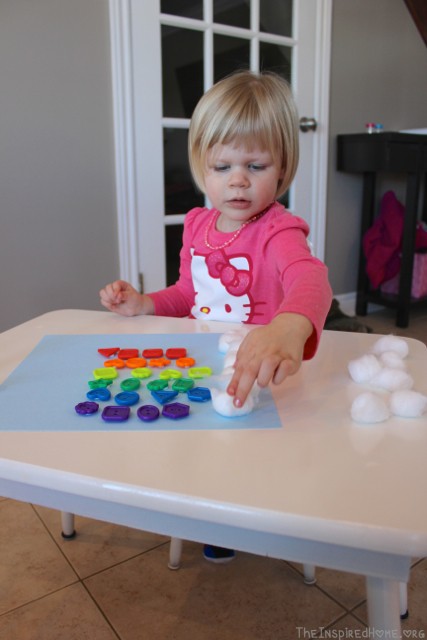 Another easy way to do this craft is to simply cover the page in white glue. Your child can then stick the buttons in lines however they like and put the clouds everywhere.
This lovely artwork takes a little bit more time to do than some of my other crafts but if you have a child who is really into crafts like this one, they will sit happily (and quietly!) for the 20-30 minutes it will take to complete.

Looking for more great ideas on crafts, activities and food to celebrate St. Patricks Day: check these out.
Looking for more toddler craft ideas? Check out 14 St. Patrick's Day Crafts & Activities for Toddlers.