The holiday season is officially upon us. For many people, seeing the wide-eyed joy on a child's face Christmas morning makes the holidays worthwhile. As such, most people tend to think about what to get the kids first on their list. We are here to help! We've compiled a list of awesome toys you can both purchase and DIY this holiday season. Time to get started (if you haven't already like I have….)
Toys
We here at The Inspired Home are all about open-ended creativity. We love to hand a kid a toy and see what they do with it! Everything on the list this year will help encourage your kids, both big and small, to get creative with their toys.

Looking for some eco-friendly, educational toys for your kids? Look no further than B. Toys. We recently reviewed the four items you see pictured above but don't stop there! Both Holly and I have a stack of B. Toys in our homes and there is a simple reason for that: they're AWESOME. With toys available for a variety of ages, you are guaranteed to find the perfect toy for every kid on your list.
Our picks this year are:
Wheeee-mote Controls, perfect for ages 1-4
Piccolo Carousel Bells, designed for kids ages 3 all the way up to 13
Tropicleania for helping kids ages 3-6 get interested in helping with family chores
Pop-Arty for any jewelry lover aged 4-10
You can find B. Toys at many retailers both in-store and online:
Mastermind Toys, Target, Amazon and eBay.

Find me a household that doesn't contain Crayola products, I dare you. Everyone loves Crayola because they come up with awesome products that kids love to use and parents are happy they don't have to clean up a mess afterwards.
Color Wonder products are perfect for young kids who want nothing more than to make a mess. The new Light-Up Stamper lets kids go to town making fun underwater scenes that will only show up on the special Color Wonder paper, not on your dining room table. Great for ages 3 and up.
The Thread Wrapper is a new product with endless opportunities for creativity. This is a great gift for the tweens on your list. There are also additional sets to be found to spark even more creativity.

If you have a little girl between the ages of 3 and 10 then you are probably quite familiar with Shopkins. They have become the must-have toy. Miss O is a huge fan of Shopkins. She has well over 200 now and many of the play sets. She has an entire room in the basement dedicated to her Shopkins that her little brother isn't allowed to go in – mostly because they are tiny little toys and he's a 15 month old who loves nothing more than putting toys in his mouth!
Pictured above are a few of Miss O's favourites. She can play for hours with these, making up little story lines and acting them out with the variety of tiny little items. These are fantastic for independent play. They can be found at most major retailers both online and in-store.
DIY Gifts
We are big fans of simple DIY here at The Inspired Home and the holidays are the perfect time to make something with a personal touch. It's always nice to make something for the kids on your list to help avoid the toy-overload that always seems to happen each year. Here are a few simple ideas that you can easily assemble in an evening.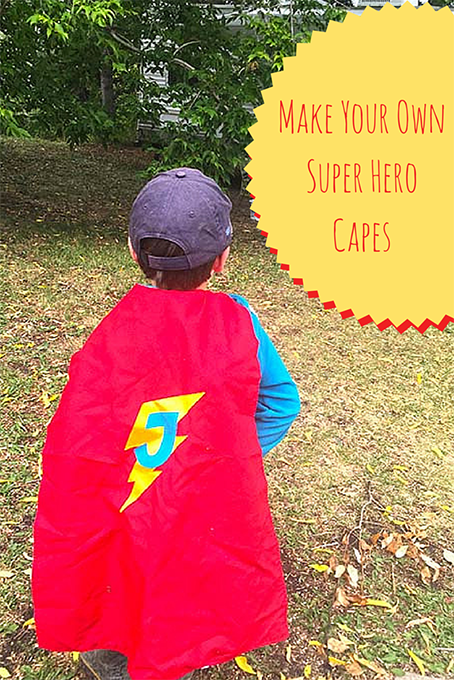 These capes make the perfect gift for any little boy or girl. I have made a few of these now (this is Mr. J rocking his cape) and not to toot my own horn, but every child I've made one for has loved their cape (toot toot!). They are reversible and totally customized to each child. It is personalized on one side as you can see in the photo above. What you don't see is that the other side of the cape is Jake & The Neverland Pirates fabric, one of his faves. Miss P also has a cape with a beautiful rainbow chevron on the one side that matches her big girl room. I guarantee a cape will be the perfect gift for the little superhero in your life.

Hairbows & headbands can be quite popular with little girls. So much so that finding a way to corral them can be next to impossible. Making a pretty hairbow holder to match their bedroom is a beautiful gift for any girl. Miss O's is a Princess Peach fabric that I bought online. She also has a skirt in this fabric – and one that matches for her doll! I adorned it with light pink sparkly ribbon (her all-time favourite colour). It's lightweight, easy to hang and even easier to assemble.

Kids love bean bags. It's a fact. Stack 'em, toss 'em, sort 'em. This is yet another super-simple DIY that can be fully customized for the child. Use a rainbow of colours like I did or make them all out of their favourite colour. All you need is some fabric scraps cut into squares, sew them up, fill them with beans. You'll have these done in an evening, guaranteed. They also make a great stocking stuffer!

Andrea can always be found with a new craft in front of her, a form of technology on her right and a coffee on her left. This is how she survives suburbia with her two crazy toddlers in tow.