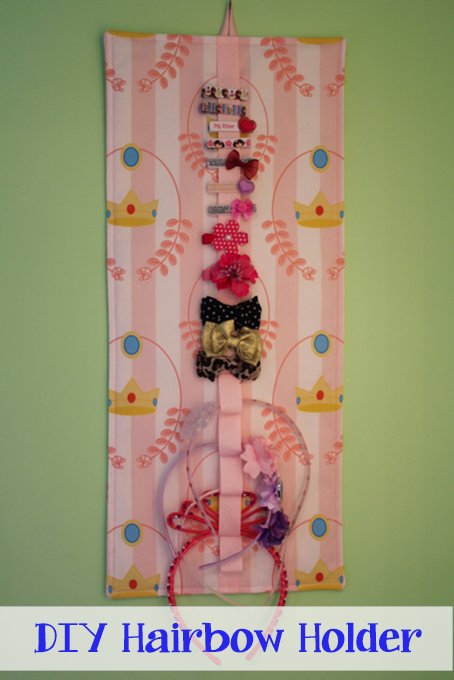 I recently endeavoured to make Miss O a hairbow holder. She got quite the collection and they're all in a pile in her room. I had just the perfect fabric on-hand for her – Princess Peach! I took my basic sewing skills, messed up a few times, but I think the hairbow holder that I sewed for her turned out wonderfully in the end.
This tutorial is just a basic guide for how I made it. All you need are some basic sewing skills and I have no doubt that you can also make an awesome hairbow holder for your little girl.
What You'll Need
Fabric (I prefer cotton)
Fusible interfacing (I used medium weight)
Batting or Fiber sheet for the inside
Coordinating ribbon – 1 1/4″ width
Coordinating thread
Basic sewing supplies
Basic Instructions
Decide how large you want your final product to be. I like to add 2 inches to that measurement on both length & width to allow for any mistakes and a nice edge to work with. You will need two identical pieces – one for the front and one for the back.
Cut your interfacing smaller than your fabric – you do not want to risk the adhesive grabbing any other surface. Follow the instructions on how to adhere the fusible interfacing to the wrong side of each piece of your fabric.
Cut your batting just slightly smaller than your fabric. I used one piece of a fiber insert. I had some leftover from this Taggie Color Book for Baby.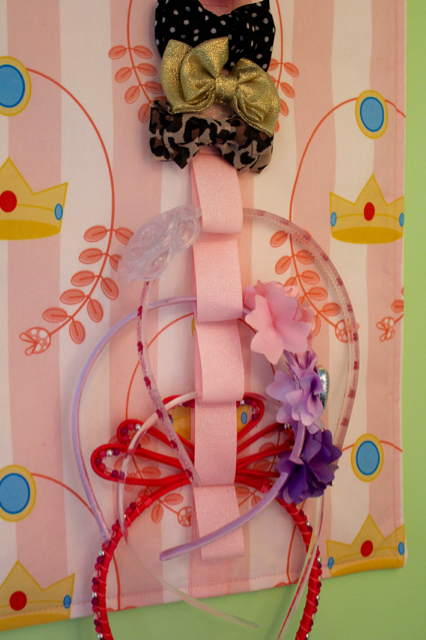 For the ribbon, decide if you would like to include the headband loops. If not, you simply need a piece of ribbon that is the length of the fabric. To include the headband loops, pin your ribbon to the top. Decide how many loops you want. I made 3″ loops – decide what works best with your design. Pin them all into place. When pinning the straight piece of ribbon, place your pins equal distance apart – you will want to sew a straight line on each of the places you have pinned to help secure the ribbon. I did 3″ segments for this portion as well.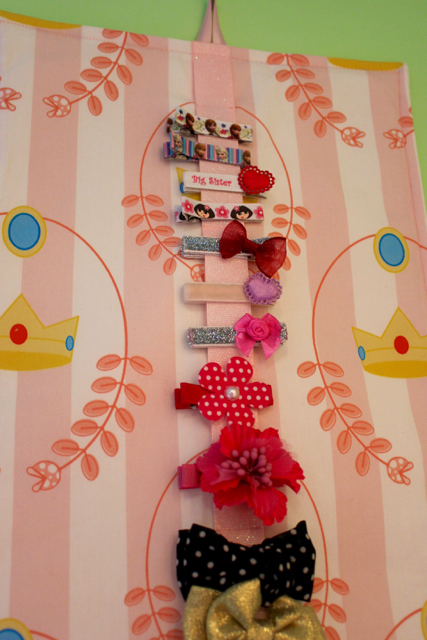 Once you have sewn your ribbon into place, start pinning your fabric. Place the two piece of cotton right sides together. Then place your inner fabric on top. You will also want to include a small ribbon for hanging. Fold it in half and tuck it inside the cotton layers of fabric, pinning into place.
Sew all the way around your fabric leaving about 2-3″ to flip when finished. Be sure to trim your corners. I suggest backstitching over your hanging ribbon for added security. Once flipped, tuck in your opening edge and iron your fabric. Sew a finishing seam all the way around. Voila! You have made a beautiful holder for all of your little one's hairbows.