Miss O has a great dislike for anything messy. This makes crafting with her a little bit difficult. She won't touch paint, ink or anything wet. I gave her a bowl of water beads once and she freaked out. It's a wonder the kid will take a bath. A few weeks ago we gave her a bubble bath for the first time. She freaked out because the bubbles wouldn't get off of her hands. The beach was a disaster that lasted all of 10 minutes. I think you get the picture – she's a very clean kid. Contact paper was a risk I was willing to take as the sticky paper is only sticky to the touch – it doesn't leave anything on the hands. It turned out to be such a hit that she was sad when it was over! Looks like contact paper is my new best friend when it comes to crafting with Miss O. I'm sure you will have great success with this St. Patrick's Day craft for toddlers.
Stained Glass Shamrocks
Items Required
Clear contact paper
Green tissue paper cut into squares
Alteration: Use varying shades of green or use a rainbow of colours
Hole punch
String or ribbon (I had some shamrock ribbon in my stash – perfect!)
Suction cup with hook
How-To
Trace, free-hand, or print a template of a shamrock. Cut two equal pieces of contact paper large enough for your template. Lay one piece of contact paper on a flat surface, sticky side up – you may want to tape it to the surface. Give your little one a pile of tissue paper squares and let them stick those squares to their heart's content.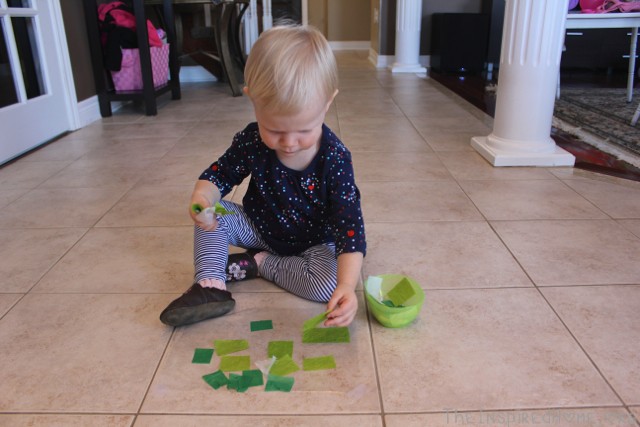 Once completed, place the other sheet of contact paper on top to seal the tissue paper. Next, tape your shamrock template to the sealed contact paper and cut out your shape. Punch a hole at the top, make a loop with your string and hang in the window from a suction cup with a hook. Voila! A beautiful sun-catcher.
Want more great ways to celebrate St. Patrick's Day? Check out our Pinterest board!
Follow The Inspired Home's board St. Patrick's Day on Pinterest.



Looking for more great ideas on crafts, activities and food to celebrate St. Patricks Day: check these out.
Looking for some new St. Patrick's Day decor ideas? Check out St Patrick's Day Mantel + DIY Shamrock Garland.