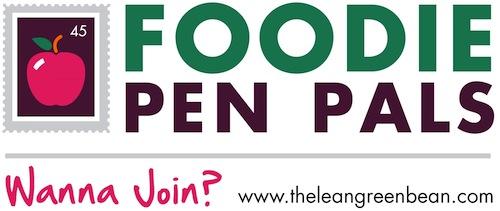 I love receiving fun mail (aka not bills) in my mailbox, so this month I signed up for Foodie Pen Pals.
I got paired up with the delightful Liam fom The Little Locavore. He sent me a list of questions asking all about what types of foods that I enjoy and he filled it out too. I was a little intimated by an intrepid 11 year old who has cooked with Food Network stars and I really took some time to consider what to send him!
When I got this tweet I knew I had picked the right items and I couldn't wait to see what he sent me.

After a trip to the post office, I was excited to open my box. Here's what was inside:

Liam wrote me a charming note. He said he got all the items in my box from _Irate Joe's. (Pirate Joe's is an unaffiliated unauthorized re-seller of Trader Joe's products in Canada). I was so excited! I'm a huge Trader Joe fan (despite being Canadian) and on my last trip to California, I actually made a point out of going there with reusable shopping bags in hand.
I admired the purple tissue paper and sent it a' flyin'.
Here's what was included:
Trader Joe's Sea Salt Potato Chips
Trader Joe's Popcorn with Olive Oil
Trader Joe's Brownie Mix (wheat, gluten & egg-free)
Trader Joe's Dark Chocolate

Yum! Thank you so much Liam for the box of goodies (and for taking on all my food allergy challenges!). I look forward to trying the brownie mix soon. Wanna sign up for Foodie Pen Pals?
Click here.

a passionate recreation coordinator by day, crazy farm mama of two by night. i live outdoors: growing my own food, camping and hiking with my border collie with two active kids in tow. when I'm not writing, I'm experimenting with recipes, and crafts – or anything else that might keep the monkeys entertained.