Both of our dads are really hardworking fellows. One dad comes to visit us for three months at a time and helps Mr D renovate the house. Almost every room in our house that we've spent significant time renovating, he has had his finger in the pie somehow. My dad (semi-retired as he likes to call himself) listens to my incessant chatter at least once every two days and gives me great advice. It is a joy to watch him interact with my children and I swear after each of his visits, my parenting star just rises a wee bit more.
Gifts for Dad is almost as challenging as gifts for mom. I was talking to my sister on the phone this week and she informed me that at Dad's last birthday, he took all his presents back. Silence. "Just like Mom?", I asked. Apparently so!
I have separated these into golf gifts, geek gifts, food gifts, tool gifts and monthly gifts for dad, each category also includes a budget friendly gift (under $25). I hope these ideas inspire you to get dad an amazing gift.
Gifts for Dad: Golf Lover Gifts


Budget Friendly: Subscription to Golf Digest – $6 for 6 months
Swim Time Aqua Golf Game – $71.99
Executive Golf Mug – $20.18
Rosewood Collector's Cabinet – $24.95
Star Wars Darth Vader Golf Club Cover – $55.09
Gifts for Dad: Geeky Gifts

Gifts for Dad: Food Treats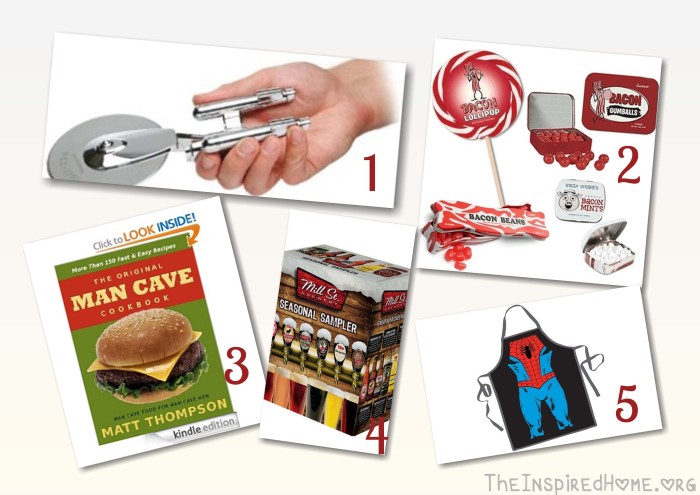 Gifts for Dad: Tools

Gifts for Dad: Monthly Gifts
Manpacks: Gifts that every man needs (underwear, socks, razors, condoms, etc).
Socking Behaviour: A great pick to expand your sock drawer every month
Beer of the Month Club: 12 full-sized bottles of hard-to-find, specialty microbrews from award-winning Canadian and international breweries
Nerdblock: epic geek gear delivered to you monthly.
Bread & Butter Skincare: Manly, all-natural skincare in eco-friendly packaging.
Got any plans on what you are going to get Dad this holiday season?