Dairy-Free Shamrock Shake
Do you have a favourite food from childhood? One that only comes out every now and again? Mine reminds me of driving in the backseat of my dad's car, laughing and joking and taking in the sweet, goodness I only get once a year. We'd make a special trip – 1 hour each way – just to order one, then drive back home.
I was the only one in my family who liked them. The Shamrock Shake. A minty, green delight so thick and creamy, it would barely travel up the straw. But only for St Patricks Day. I'm not Irish. I'm not sure I'm even a little bit Irish. But I could hardly wait for the familiar commercials to come back on during Saturday Morning Cartoons. Finally, it was time! I still remember exactly how that first sip tasted after the long, long wait.
Missing my favourite
Sadly for me, and for my Shamrock Shake love, I am now totally lactose intolerant. I am used to it now. I have a great number of amazing work-arounds and I don't feel like I miss out on much. But every year around this time, I feel the loss when ever I catch a glimpse of a Shamrock shake.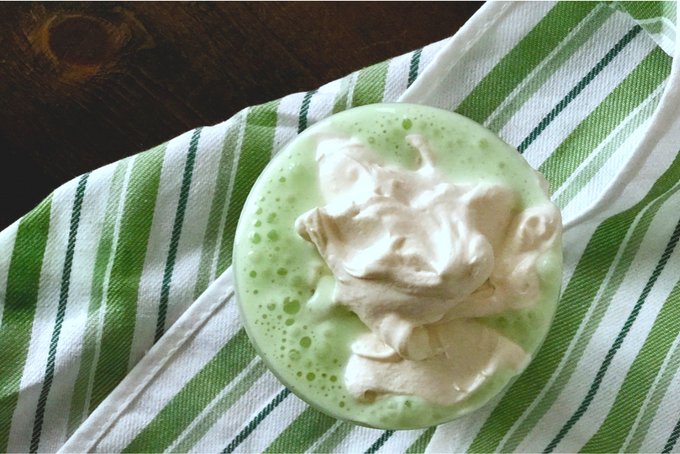 A new St Patricks Day tradition
This year I decided to do something about it. With so many great coconut options out there, I knew I could probably get pretty close to the consistency of the Shamrock shake, with just a slightly more coconut taste. And I was right. Not only is this Dairy-Free Shamrock Shake delicious, it's thick, creamy, and made me feel like I wasn't missing a thing. (Except maybe my dad). Of course, none of the rest of my family wanted to try it. I guess mint isn't for everyone. That's ok though. It meant more for me.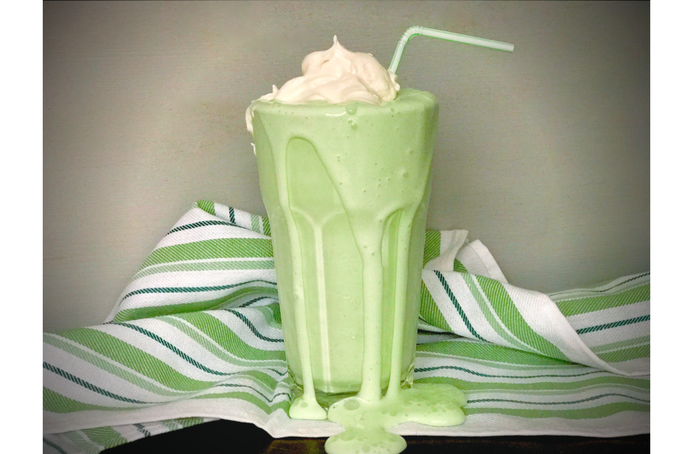 Dairy-Free Shamrock Shake
An easy, thick and delicious minty shake for St. Patricks Day.
500 ml Vanilla Coconut Ice Cream
2/3 cup Coconut milk
1/2 tsp Peppermint Extract
18 drops Green Food Colouring
Optional: coconut whipped topping to taste
Let the coconut ice cream soften slightly on the counter – 5 minutes.
Shake the coconut milk in the can before opening.
Blend ice cream and coconut milk until combined (if it won't mix, let the ice cream soften more).
Add peppermint extract and food colouring.
Blend to combine.
Pour into serving glasses.
Add topping if desired.
Serve immediately.

Looking for more great ideas on crafts, activities and food to celebrate St. Patricks Day: check these out.
Looking for a fun St. Patricks Day Dessert? Try Jello Shamrocks.