Easy Crockpot Chicken
There are two days in our week that are just hectic. To make the tight timing of it work, dinner has to be very quick or in the crock pot. I find myself leaning towards the crockpot just for ease of use! I love this Easy Crockpot Chicken recipe. Throw in fresh toasted bread & a bag of salad and you've got a very simple quick meal which is also healthy.
The leftover chicken makes for easy chicken salad, sandwiches and quesadillas for lunch. Pick the bones dry eating the moist crockpot chicken then throw in 2 cups of chicken broth, 2 cups of water and let simmer for 30-90 minutes on high. Pick out the bones and then add in your favourite vegetables and leftover rice or noodles. It makes a delicious chicken soup which freezes well and is great right before you come down with a cold. Just throw the frozen cube of soup in your saucepan and let it melt on low for a few minutes. Talk about the chicken that just keeps giving!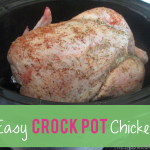 Easy Crockpot Chicken
An easy crockpot meal you can prepare in advance for a quick supper.
Cook Time
5
hours
30
minutes
Total Time
5
hours
35
minutes
Ingredients
Aluminum Foil

2

Tbsp

Paprika

2

Tbsp

Thyme

Salt

Pepper

Whole Chicken

washed, remove strings
Instructions
Ball aluminum foil into 4-6 balls to support your chicken (make sure it's not touching bottom)

Rub chicken with paprika and thyme all over

Sprinkle with salt & pepper

Put on HIGH for 30 minutes

After 30 minutes, turn crockpot on LOW and let chicken cook for 4-6 hours.
Recipe Notes
Enjoy with a bag of salad, fresh bread or healthy grain.
The leftovers are great for lunches, and more dinners.
To make a simple bone broth after you pick the chicken clean, throw the bones back in the crock pot, add 2 cups of water and a 900ml tetra of chicken broth, and heat on HIGH for 30-90 minutes. Then remove bones and add vegetables or leftover pasta/rice & cook on LOW for 4 hours for a healthy chicken soup. It freezes great!
What's your favourite healthy crockpot dinner? I'd love to learn some more great ones!

a passionate recreation coordinator by day, crazy farm mama of two by night. i live outdoors: growing my own food, camping and hiking with my border collie with two active kids in tow. when I'm not writing, I'm experimenting with recipes, and crafts – or anything else that might keep the monkeys entertained.