These chewy granola bars are actually the whole reason I started FoodRetro. It all began with my four-year-old dairy, nut and peanut-allergic son… who wanted to eat granola bars like his daddy. Unfortunately, I have yet to find a store-bought granola bar that doesn't contain at least one of those three.
Trying to make a granola bar that he could eat was how I got into baking from scratch (something I formerly did not enjoy doing). I was just trying to keep my son from feeling isolated and left out. And it ended up being the start of a journey that became a brand new career for me. I never thought in a million years that from a simple granola bar would come a whole blog, with hundreds of new friends and a completely different lifestyle!
Funnily enough, the granola bars ended up being pretty good, too.
I've made this recipe at least hundred times over the last few years. Not only are they incredibly easy to customize, but they also are a huge hit with kids. They're fast, they're portable, they're healthy, and you can make double and triple batches of them, freeze them, and put them in lunch boxes all year long.
This recipe also helped me introduce baking to my son. It wasn't long before he wanted to become part of the process, helping me mix and measure.
And taste test, of course. We mustn't forget the taste testing.
If you buy the ingredients in bulk, within a few batches, you're the same price as the store bought anyway. And trust me–your family will love these way more. Who knows? Maybe a simple granola bar will help start you on a journey, too.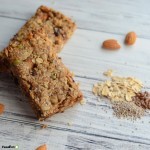 Dairy Free Chewy Granola Bars
These yummy, chewy granola bars are naturally dairy free and simple to make nut-free too to be school friendly!
Ingredients
2

cups

rolled oats

1

cup

whole wheat flour

3/4

cups

brown or coconut sugar

1

tablespoon

chia seeds

1

teaspoon

flax seed

1/2

teaspoon

salt

1/2

teaspoon

ground cinnamon

1 - 1 1/2

cup

whatever you want to add

c/raisins, dried fruit, seeds, chocolate chips, whatever--go nuts!

1/2

cup

light oil

1/2

cup

honey

1

egg

1/2

teaspoon

vanilla extract
Instructions
Preheat oven to 350F.

In a large bowl, combine all the dry ingredients, making sure that the sugar is broken up and without lumps.

In a smaller bowl, combine oil, honey, egg, and vanilla extract, blending together.

Add the wet ingredients to the dry, mixing well with a spoon.

Pour the mixture into a lightly greased 9x13 pan, and using a flat-bottomed glass or Tupperware container, press firmly into a flat layer in the bottom of the pan.

Bake for 20-25 minutes, until the edges brown. Allow to cool for 10 minutes before cutting into bar shapes.

Store in an airtight container. Bars will last for 2-3 weeks at room temperature, sealed.