I've begun to appreciate exactly how versatile quinoa can be. My daughter will eat her weight in these breakfast muffins so I figured it was time to bring something like this to the dinner table. I stumbled a cross this recipe and changed it a little bit to my tastebuds. They were a great success with everyone enjoying them. It was also nice to have a meatless meal. I added a wonderful kale side salad and dinner was complete.
These broccoli cheddar quinoa cakes would also be great at breakfast. They're also quite tasty when they are not fresh from the frying pan so you could make these ahead of time.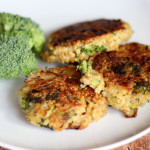 Broccoli Cheddar Quinoa Cakes
A delicious vegetarian dish that will please the pickiest of palates.
Ingredients
1/2

cup

dry quinoa

1

cup

water

1

cup

broccoli florets

1/2

small onion

chopped

1

clove

garlic

or equivalent of minced in a jar

1/4 - 1/2

cup

grated cheddar cheese

1

tbsp

grated parmesan

1/4

cup

bread crumbs

3-4

fresh basil leaves

chopped

1

egg

Salt & Pepper

Olive oil for cooking
Instructions
First you'll need to cook your quinoa. Do this ahead of time as you need it to cool before preparing the cakes. Add 1/2 cup of quinoa to 1 cup of boiling water. Place a lid on the pot over medium heat for 15 minutes or until all liquid is absorbed. Fluff it with a fork and set aside to cool.

If you have the time, I suggest caramelizing your onions. This takes about 20 minutes to do. Otherwise you can simply fry them in a pan in a bit of oil until translucent. To caramelize, place chopped onion in a frying pan with 1/2 cup of water. Place the lid on securely and boil over medium-high heat. After about 10 minutes, make sure there is still liquid in the pan. If not, add more water, 1/4 cup at a time. Do this until the onions are cooked to your liking and the liquid is almost gone.

Once the onions are done, add the broccoli florets, place the lid back on and steam everything up until the liquid is gone. Add your garlic for the last minute of cook time.

Allow your broccoli, onion and garlic mixture to cool. Chop your broccoli florets finely and toss into the quinoa mixture along with the onions & garlic. Add your cheddar, parmesan, basil and breadcrumbs. Season with salt & pepper. Mix it all together.

Heat some olive oil in a frying pan over medium heat. While it is heating, add the egg to the mixture, blending it all together. Form into patties. Place your patties in the frying pan and let cook about 8 minutes. Flip and do the same for the other side.

Serve with your favourite side salad.

Andrea can always be found with a new craft in front of her, a form of technology on her right and a coffee on her left. This is how she survives suburbia with her two crazy toddlers in tow.