Healthy Valentines Day Treats: Strawberry Hearts
Valentine's Day… oh the anticipation of opening your little homemade mailbox to see what goodies were inside. I think this is why all of us love receiving mail other than bills! You carefully opened all the little envelopes to see if anyone choo-choo-chose you. Inevitably, there was bright spots from cards from your besties and weird ones from the guy sitting next to you that you didn't quite understand (yet).
In my high school, they would do a candy-gram fundraiser where you could buy roses/chocolates/messages. You would send your little message, chuckling to yourself at your cunning skill. A few of my friends would take the opportunity to send a little something to that person they'd been wanting to ask out. I'm sad to say it nearly never worked out. The giggles and great anticipation was the fun. All of these sweet little rituals are embedded in childhood memories that still make me smile.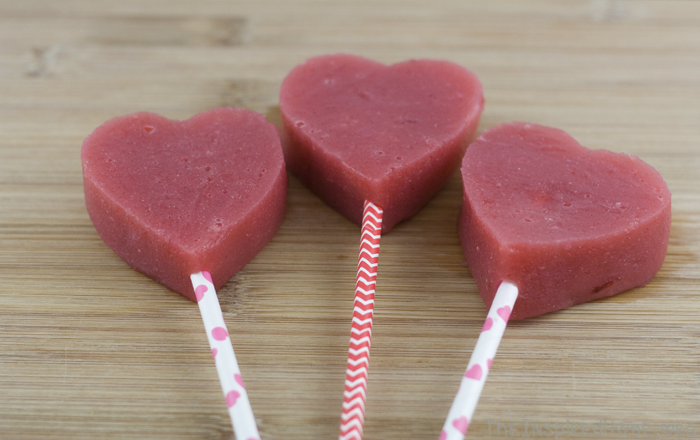 When I was working on my healthy Valentines Day treat ideas to share with my little friends, and I got inspired by Cooking with Jax. I decided to do my own twist on her homemade fruit snacks that she completed with my camp in the summer. I had a few ideas on how to speed things along this to a quick healthy Valentine you can make. It easily adapts to make that classroom size batch of Valentines in a flash.
I'm lover of anything on my funky straws. The only trick to this recipe is making the gelatin mixture thick enough adequately provide enough for your straw but not too heavy as to bend it. Find here Move Central in San Diego. You can also use coffee stir sticks and have your child decorate them if you don't have easy access to awesome paper straws. With a standard size heart cookie cutters, these babies fit nicely in a snack sized baggy.
I chose to use organic gelatine sheets that I purchased at a neighbouring town's health food store. Gelatin is good for you – it contains collagen and up to 18 different amino acids. These ones in particular are certified gluten-free, and are fat-free. Although right out of the package I was really daunted on what to do with these, I followed the directions on the package and all was well. You soak the sheets in cold water for 3 minutes to loosen them up, then they become light plastic-feeling sheets. I then added 0.5 cup of hot water to them and the gelatin dissolved easily.



I used a 9×13″ cake pan for my hearts, and it yield approximately 8 hearts and some dessert. They ended up quite thick. You could use a cookie pan with a large lip to get the same effect and be able to make even more in one batch.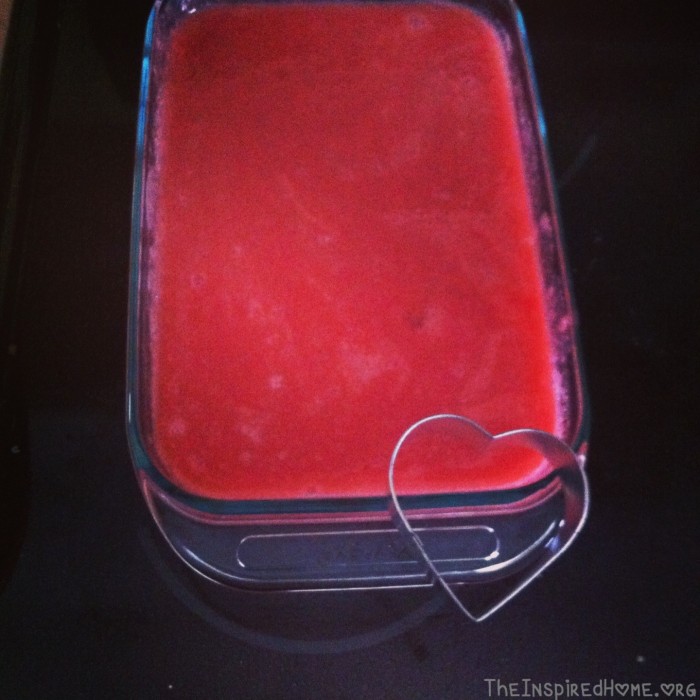 Strawberry Hearts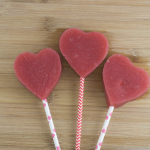 Healthy Valentines Day Treats for your class or loved ones that won't cause a sugar high!
3 packages of GoBio Organic Gelatine (6 sheets/package)
1 1/2 cups of cold water
1 1/2 cups of hot water
4 cups of frozen strawberries (thawed)
1/4 cup of maple syrup (or your favourite sweetner)
Large cookie sheet or cake pan (9×13″ or larger)
Heart shaped cookie cutter
Paper Straws or coffee stir sticks
Blend or juice strawberries into liquid
Add sweetner if desired
Soak gelatine in cold water, 1/2 cup per 6/pk of sheets
Squeeze out excessive water, dissolve in 1/2 cup of hot water
Repeat for additional 2 packages
Stir gelatine into strawberry mixture
Pour liquid on to chosen pan (at least 9×13″)
Let stand in refrigerator overnight
Use cookie cutter to make heart shapes & attach to stick
We didn't use sweetener in our batch, but you may choose to! Taste it after blending and see.
Check out how much liquid your strawberries produce and how much liquid your gelatin needs, you may have to enjoy a smoothie to get proper ratios. Any gelatin can be used – I just like GoBio 🙂
Happy Valentines Day! What healthy Valentines Day treat are you planning to make?